University of Minnesota, Twin Cities
Fall 2010 // Prof. John Ross
The Rondo Neighborhood in St. Paul has historic significance. It's important for maintaining the heritage of the African American families that flourished in the area during the 1930's. Unfortunately, the area was forever changed during the 1960's. Interstate 94 ripped through the Rondo Neighborhood and left a physical and cultural scar in the area. Today, the neighbhorhood is in a state of flux and in need of a community based landmark.
My design proposal is for a culturally based museum to be placed in the University Avenue corridor. As a nod to its unfortunate past, this site will reside adjacent to a heavily trafficked corridor. The architecture creates 4 main cores constructed from a heavy, site cast concrete painted dark. The sidewalk and alley "spill" into the site. Public space intersects private space in this project. 
Access to the upper levels only occurs when one enters the main cores from below grade. This creates a voyeuristic experience as one peers unto the public realm from inside of the museum, without public gaining visibility within. In addition, the spaces and circulation around these cores will feature traveling exibits and temporary work. The building's skin in these areas will be translucent, promoting the need for transparency in contemporary society and politics.
Exploded Axonometric // The public realm (represented in green) is fluid and blurs the line between public and private. The four cores of the museum are surrounded in flexible program and wrapped in a translucent skin. Skylights above each core brings controlled natural light into the exhibits.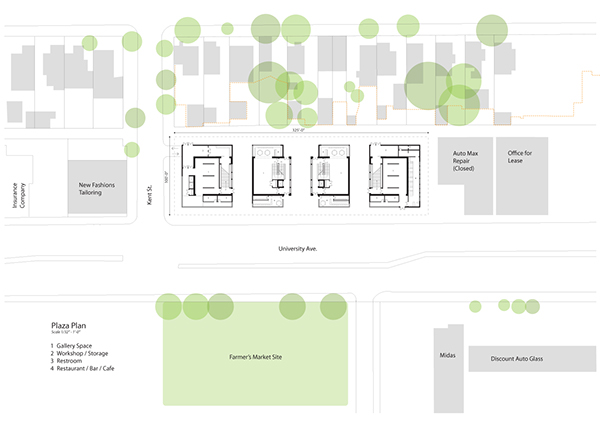 Cross Section // The museum mediates the energy of the public realm and the intimacy of the suburban alley.
Floor to Skin Detail // Translucency is achieved by extending the floor plate beyond the exterior wall construction. Through this detailing, the cladding and exterior skin appear to float outside of the inbetween spaces, further re-iterating the architectural notion of transparency.