For Good is a mockup for a mobile app that is a carbon footprint calculator. Focusing on the social and gamification, it gives people tips and incentives to reduce their personal footprint.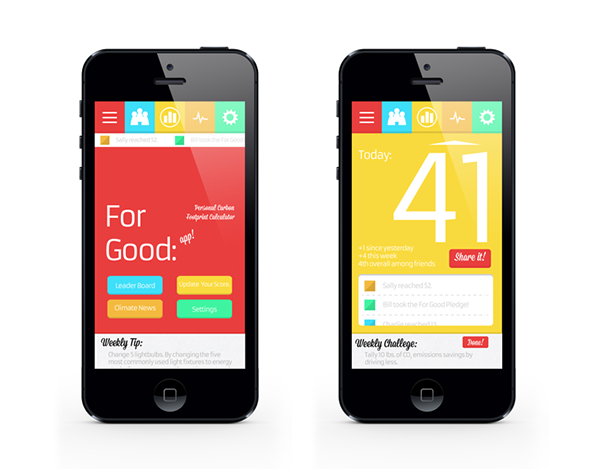 Left: Main screen, Right: Daily score and social feed.
This is the first iteration. This iteration really focused on easy access to information, providing news, tips, and stats on the main screen. The score screen on the left harnesses the powers of social gamification by prominently displaying your score, your friends feed, and weekly challenges. Bright red buttons call you to take on the challenge and to share with friends.
Left: Cover, Mid: Score Screen, Right: Stats Screen.
While the first iteration was bright and fun, this second iteration tried for a clean and understandable approach. I wanted to make this app feel clear and accessible, empowering people to take action in reducing their personal carbon footprint. Again, the emphasis is on gamification and social interaction.