Branding | Officina Patina

Luxury handmade men's shoes and accessories  |  Portugal
This project started in 2008 and was developed for a new company in the shoe fashion industry. It was aimed at the international market and at the high-end and luxury segments.

From creative direction to graphic development, from marketing insight to visual identity creation, from photography to packaging design, I've been responsible for every marketing material since the brand's conception.
A single-colored logo and monogram were created, with white and black being the colors of choice. The large palette of colors used on the leather products would conterbalance with these neutral colors.
Besides the main stationery, other corporate print materials were also created, such as: invoices, data sheets, fax covers, etc. All stationery was printed in fine papers.


Brand Presentation Brochure
This brochure was the first printed material to be presented to possible future clients (both at store and at end-client levels). It had to express a strong brand image and show a quality product so it would make a lasting impression.
A large format (30 x 30 cm) brochure was designed and printed in fine paper (transparent paper is also used) with great attention to the copy and photography production.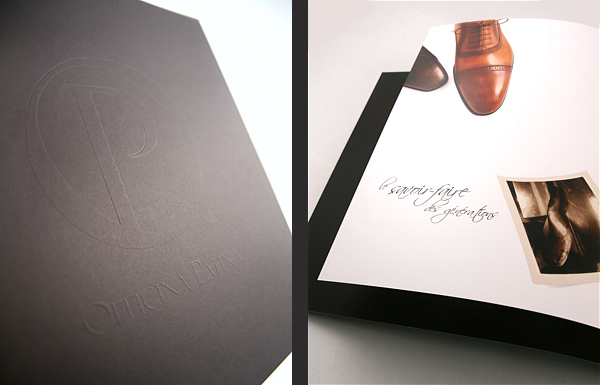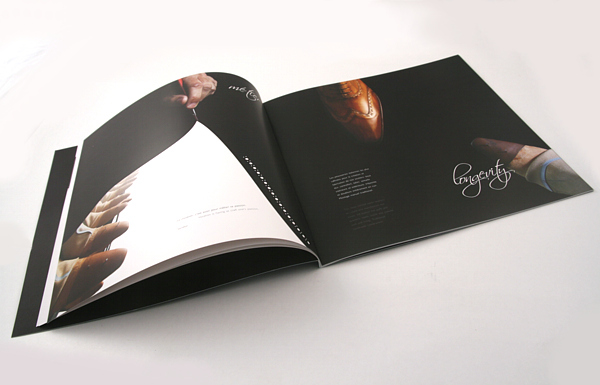 A custom-made dossier was designed to accomodate the brand presentation brochure, the full product catalogue (renewable) and the leather color samples (patinas).
Each dossier is handmade in high quality leather. It has the logo and monogram embossed on the cover and it can be patinated in a color chosen by the client (store).
A hardwood shoebox was designed, acting as a drawer, along with a small inbuilt compartment to accomodate the accessories. The logo and monogram are laser printed at the top and front.
A high quality cardbox shoebox was also designed and manufactured.
Shoe bags, labeling and logo implementation on other materials were also my responsability.
This small booklet went in the shoebox, along with each pair of shoes. Its content was based on the larger brand presentation brochure, but it would also be used for proof of purchase purposes, since it included a serial number.
The following pictures are just examples of logo and monogram use on Officina Patina products.
Do note that I was not responsible for product design.
Pattern fabric design for linings on leather goods. 
Other collateral  |  Invitation cards
Various collateral materials - advertising the brand or events - were created. Along with invitation cards, posters and brief multimedia presentations were also developed.
Heel of the sole design (co-author)
The curved transition, on the heel of the sole, between the leather and the rubber plate was my creative responsibility.
Responsible for all art direction and photography.


(product, production / manufacturing, and landscape photography)