PROJECT DONE FOR 

D3 HOUSING TOMORROW COMPETITION


AWARDED WITH SPECIAL MENSION: 

ALTERNATIVE TYPOLOGY
Member Team:


Łukasz Brzozowski
Mateusz Klepadło
Katarzyna Kuczyńska
Weronika Salach
Barbara Grzywa
IDEA


The concept was to create a multifunctional skyscraper. The idea of a structure around the globe was inspired by Niven's vision from Ringworld novel and Kardashev's theory of civilization level. We want to make a huge coil construction with the superconductive core and collect the magnetic power from the Earth's core. This follows the principle of electromagnetic induction.
The building works like a bioorganism, where parts depend on others and work together. The center of the structure is the Mother Core, which is its energy supply. Green Tube is a space created for endangered species of animals and plants so it works as oxygen and nourishment supplier. Housing Tube is an answer to the upcoming overpopulation problem. Flow of Goods Unit acts like a network, which is intended to provide fast transport of resources. A combination of vacuum and the state - of – the art technology allowed to create supersonic global transport. Laboratories- the brain of the construction include research space for development of technologies and command docks as control centers. Industry Tube is a kind of factory which produces goods without any harm to the environment.
The idea of the Ring of Heritage gives us possibilities of political and energy independence.
The main energy source is clean and inexhaustible. It allows to think about self-sufficiency on global scale and not just in individual cases.
The idea of space journey has never been closer than now. In philosophy, space exploration will be a natural continuation and extension of Human Heritage.
Furthermore, this project positively reinterprets a way of thinking about respecting natural environment. It is not an unpleasant duty but a great honor and huge convenience for humanity.
This work is not at all just about self-sufficiency, but about humanity as part of Heritage, which has enormous strength and potential. Could we afford not to take this into consideration?
Me and you. We are part of Heritage. 
more visualizations at the end of this page.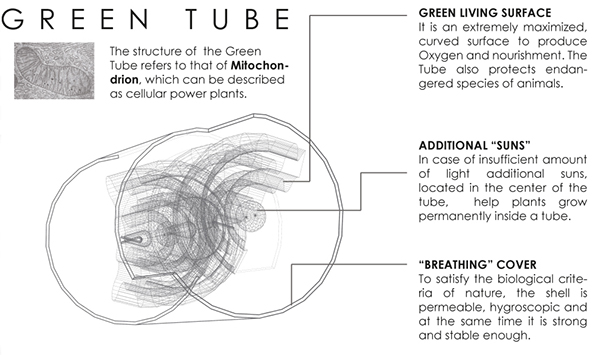 http://www.d3space.org/competitions