Collaboration project with Monitor Audio Ltd, British owned and managed global specialist in hi-fi loudspeaker design. Monitor Audio is known the world over for their stereo and surround systems as well as a large range of architectural speakers. More recently Monitor Audio have begun To emerge into the mainstream audio electronics market with a range of innovative home audio solutions. 
People's entire music library is more frequently being stored remotely and accessible on multiple sources. This makes it more transportable, so with these in mind we were supposed to investigate the need for a portable loudspeaker device for playing and sharing one's music in a number of different environments. The finished solution had to be styled to suit its environment but clearly incorporate Monitor Audio's brand identity.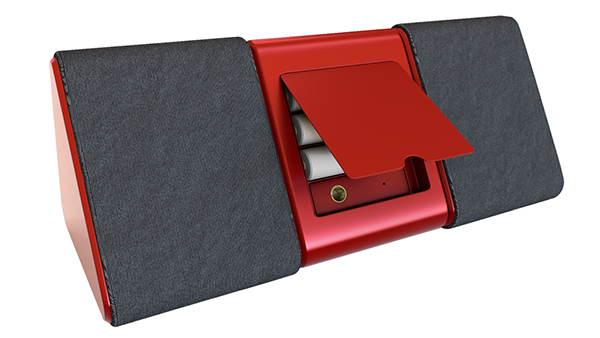 So, this is my concept of portable speakers for Monitor Audio. They have rotating mechanism, so that drivers can be turned to different sides. For example, when you are listening to music just sitting in your garden, you  speakers are oriented to you. But if you are having a party with your friends, you may share your music by rotating two drivers to different sides. 
These are my presentation boards showing the product, available color pallette, technology, tecnical drawings and object in context of use: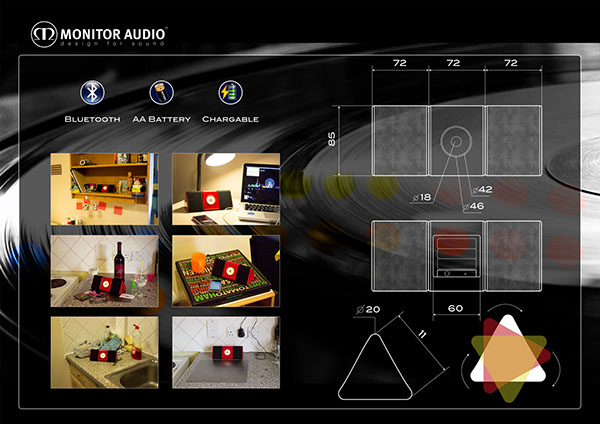 November 2012 - February 2013