For more information about the deck visit:
Check for more extra information at my FB page here:
If you want to purchase one check by country/region:
-------------------------
Para más información sobre la baraja visita:
Para más información extra visita mi página de FB:
Si queréis adquirir una baraja visitad por pais/región:
http://www.facebook.com/Aleix.Gordo.Hostau.Ilustracion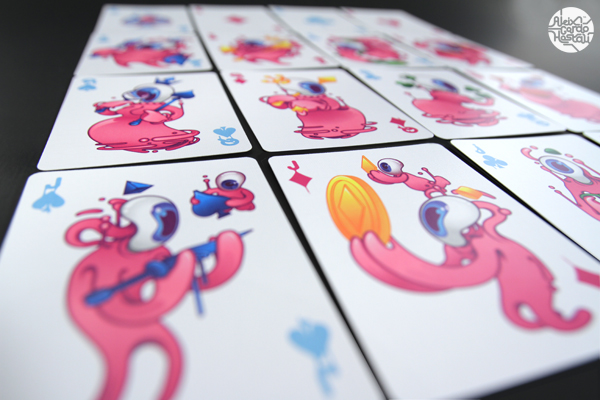 This were the very first proposals for
Bycicle's
logo redesign and an exploration on how the numbers, cards, box and figures should look and feel.
--------------------
Estas son las primeras propuestas para rediseñar el logo de
Bycicle
y un primer análisis de cómo los números, las cartas, la caja y las figuras podían ser. 
This is the process I followed to design all the figures in the deck. I first sketch the character with pencil (with a previous "casting"), scan it, clean it and prepare it for vectorization. After that I "ink" the strokes and add color simultaneously. Finishing touches and fitting the design into the card. This is the King of Diamonds.
Click on the image to enlarge.
-------------------
Este es el proceso que seguí para crear todas las figuras de la baraja. Primero boceteo el personaje a lápiz (con un previo "casting"), lo escaneo , lo limpio y lo preparo para vectorizarlo. Después de eso lo "entinto" y le añado el color simultáneamente. Al final unos toques finales y adaptación del diseño en la carta. Este es el Rey de Diamantes.
Clicad en la imagen para agrandar.
Process for Queen of Clubs.
------------------
Proceso para la Reina de Tréboles.
Process for Jack of Hearts.
I decided to create servant type characters for Jacks, so each character has an element that reaffirms the symbology that represents every type of cards.
----------------
Proceso para la Jota de Corazones.
Decidí crear personajes como sirvientes para las Jotas, así cada personaje tiene un elemento que reafirma la simbología que representa cada palo de la baraja.
Process for Ace of Spades.
I decided to recreate one of the oldest logos from Bycicle cards. Actually the design about the angelon the bycicle is from XIX century. I made my own version with one of my Eye Babies.
----------------------------
Proceso para el As de Picas.
Decidí recrear uno de los logos más antiguos de las cartas Bycicle. De hecho, el diseño del ángel en bicicleta data del siglo XIX. Hice my propia versión con uno de mis Eye Babies.
Sketches and final version of the back part of the cards.
-------------
Bocetos y final para la parte trasera de las cartas.
Process and final box.
------------
Proceso y caja final.
Hearts.
----------
Corazones.
Varias cartas.
---------
Various cards.
Jokers and Extra Joker.
----------
Jokers y Joker Extra.
Seen in Tokyo a few ago!
-----
Visto en Tokyo no hace mucho!
I hope you liked it! Please share.
If you want to purchase one deck, please got to Bicycle's (USA-Worldwide) web site here:
Or Fournier (Spain-Europe) site here:
If you want more information, please visit my FB Page or my Instagram account here:
See you in my next adventure!;-)
---------------
Espero que os haya gustado! Por favor compartidlo.
Si queréis comprar una baraja, por favor visitad la página web de Fournier (España-Europe) aquí:
O en la web de Bicycle (EUA-Todo el mundo) aquí:
Si queréis más información, por favor visitad mi página de FB o mi cuenta Instagram aquí:
Os veo en mi próxima aventura!;-)