This project is, I think, my best one.
I take care about all little things, lights, shadows...

I search pictures on Flickr for one and half hour, and I made this in 4 hours and a half.
In the .Psd files, there are not less than 115 layers.
I'm really proud of this one, and I hope, you'll like it !


You can see the STEP BY STEP gif here
More than simply putting flowers in a container, ikebana is a disciplined art form in which nature and humanity are brought together.
Contrary to the idea of floral arrangement as a collection of particolored or multicolored arrangement of blooms, ikebana often emphasizes other areas of the plant, such as its stems and leaves, and draws emphasis toward shape, line, form.
Though ikebana is a creative expression, it has certain rules governing its form.
The artist's intention behind each arrangement is shown through a piece's color combinations natural shapes, graceful lines, and the usually implied meaning of the arrangement.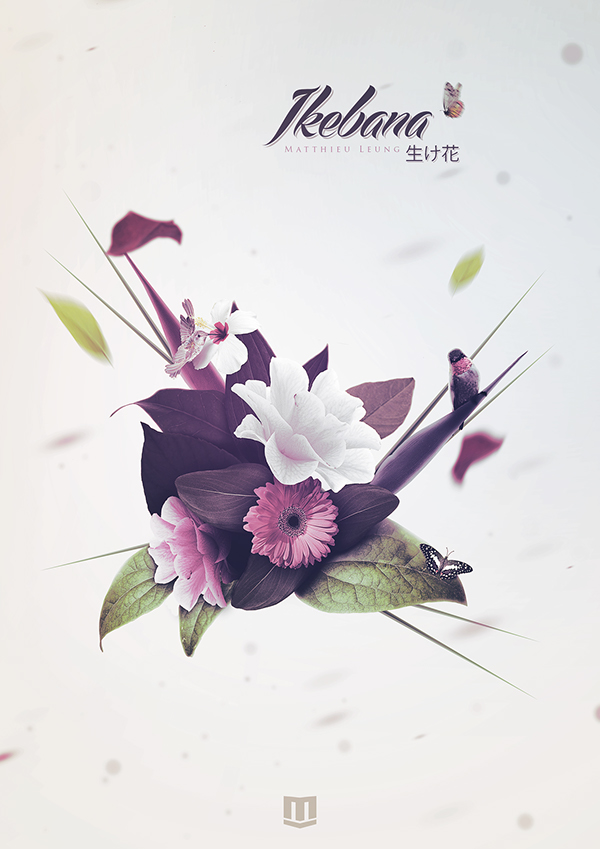 I would thanks those guys for their incredible picture : 
-http://www.flickr.com/photos/uajith_set1/
-http://www.flickr.com/photos/fantom-foto/
-http://www.flickr.com/photos/dbgg1979/
-http://www.flickr.com/photos/dfb_photos/
-http://www.flickr.com/photos/pictographic/
-http://www.flickr.com/photos/brewbooks/
-http://www.flickr.com/photos/deepsphotos/
-http://www.flickr.com/photos/waltstoneburner/
-http://www.flickr.com/photos/photones/
-http://www.flickr.com/photos/1234abcd/
-http://www.flickr.com/photos/brenda-starr/
-http://www.flickr.com/photos/geishaboy500/