Identity for Mary Mazaeva
Фирменный стиль для художника-гримера Марии Мазаевой
Mary is professional make-up artist from Moscow.
Мари профессиональный художник-гример.
   Identity catches details of working process - Mary works with different theaters, historical hairstyling and makeup are her specializations. She wished that her logo would be elegant with a part of the historicity.  Logo based on Garamond typeface. Mint color is her favorite and it's look pretty fresh and modern.
   Мари специализируется на исторических образах, для нее важно, чтобы фирменный стиль улавливал эту специфику — был элегантным, с оттенком историчности.
   Логотип основан на гарнитуре «Гаромонд» — классическом эталоне старинного шрифта с засечками. Мятный цвет сглаживает ощущение старинности, придавая свежесть и современность логотипу.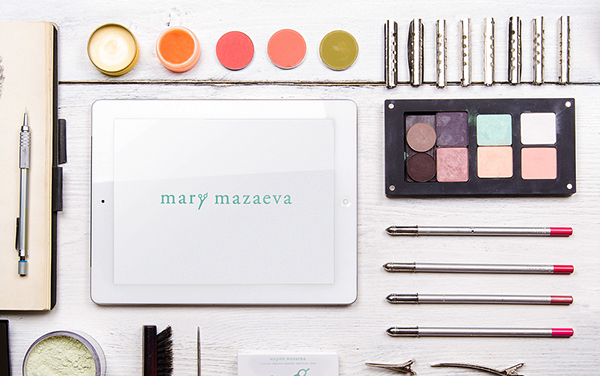 Makeup is the process, process of reincarnation, it is some kind of magic. I want to show it by business card. It is extraordinary business card, it is interactive. Like a kid's toy you move a thread in your hand and see optical effect of animation.
   Мейк ап всегда связан с впечатлениями — человек перевоплащаясь, получает новый опыт ощущения себя. Для меня было важно уловить этот момент в фирменном стиле, разработать деталь, которая стала бы чем-то примечательным и эмоциональным для ее владельца.
   Такой деталью стала визитная карточка. Прокручивая пальцами нить, продетую сквозь карточку, получается эффекта анимации — движения ножниц.