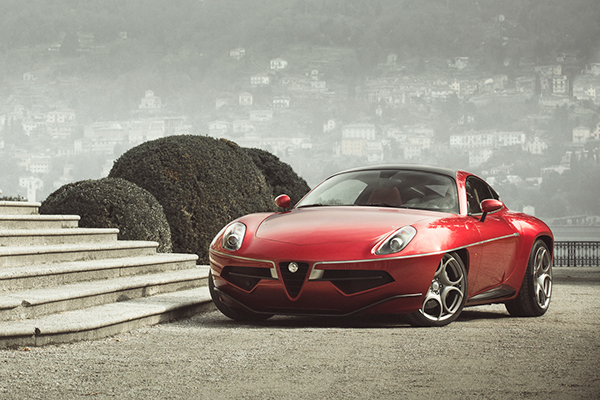 Following the introduction of the full-scale styling model in 2012 Touring Superleggera  presented the first production model of the iconic Disco Volante at the 2013 Geneva Motor Show.
The Disco Volante is a two-seater Gran Turismo. It has the front-central mounted 4.7 litre V8 engine and a transaxle rear drive of the Alfa Romeo 8C Competizione coupé with unmodified specifications.
The present Disco Volante celebrates the myth of the 1952 style icon. The new design briefing required to blend ingredients as innovation, emotion and aerodynamic properties into a timeless and essential shape. Keywords are: bold, innovative, refreshing, daring.
Some significant elements were changed from the Disco Volante 2012 mock-up, like a higher bonnet needed for the engine bay ventilation or the door window camber to ensure window movement.
In the end, not even a part is exactly the same between real car and mock-up. However, the original proportions are saved, and the production car is even more dramatic and impressive.