This series of advertisements was designed as one of my outcomes to promote a self-generated website called www.saveourunderwaterlife.com for my Degree Project

SOUL: Save Our Underwater Life. 
The concept behind the illustrations is that all life within the ocean is inter-connected. Each organism depends on the other for survival so by threatening a certain animal, the entire
ecosystem is at stake. The website it is promoting gives browsers access to information on
how they can help conserve marine life in different parts of the world.
The sub copy for all three advertisemnts says the same:
"With 70 % of the Earth's surface covered by water, the underwater world is as vast as it is unexplored. Each of the countless marine species is co-dependent on the other as they are all at different levels in the food chain. An important fact that very few people are aware of is that coral reefs produce more oxygen than the rainforests do. By destroying them, we will ultimately
Humpback Whale: "Before the Whale becomes just a Tale."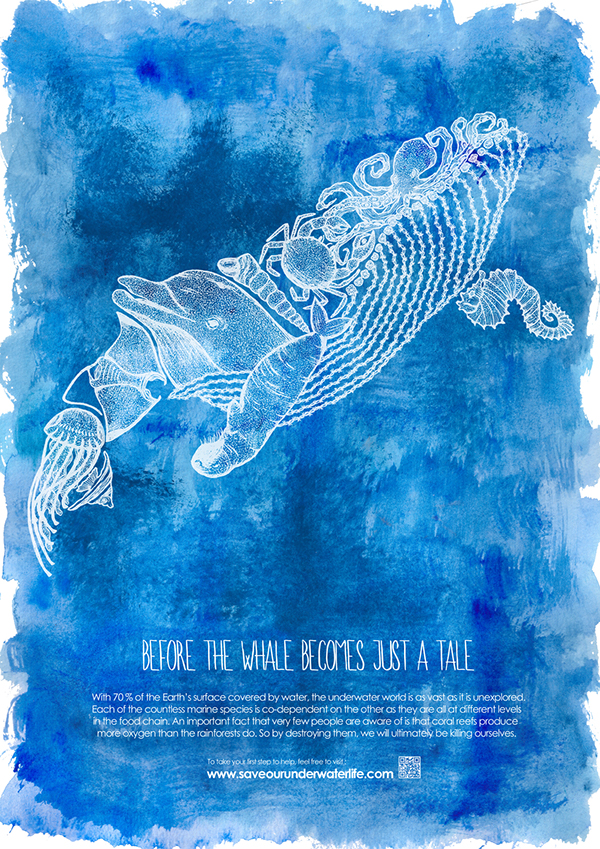 Manta Ray: "Eliminate One, Eliminate All."
Octopus: "It Takes as Many Hands to Preserve as it does to Endanger."
Illustrating the Humpback Whale:
Illustrating the Manta Ray:
Illustrating the Octopus:
Illustration Process Booklet: