imin.fm — Imin.fm is a crowdfunding platform created to organize indie performances.
Staff:
Albert Polyakov – art director, designer and (a bit of) copywriter.
Konstantin Pimenov – product manager.
imin.fm
- краудфандинг платформа для организации концертов инди исполнителей.
В ролях: 
Арт-директор, дизайнер, немного копирайтер: Альберт Поляков 
Продакт-менеджер: 
Константин Пименов
Imin.fm logotype contains photos of registered users.
Логотип содержит фотографии зарегистрированных на imin.fm пользователей.
Main page has the playbill of the coming concert showing fundraising progress, number of
participants and time left.
На главной странице афиша предстоящего концерта, отображающая ход сбора средств, колличество участников мероприятия и оставшееся время.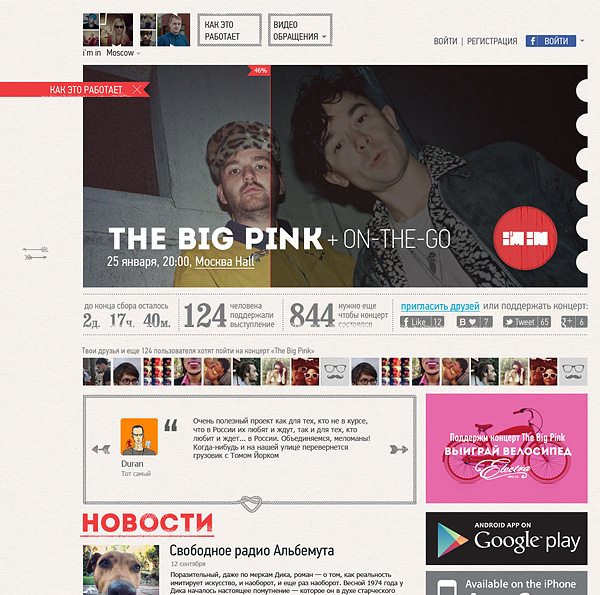 Participant chart has hierarchy calculated on user activity and the activity of friends invited by him. This determines what bonuses the participant gets in the end, e.g. an Electra bicycle, +1 for idol's afterparty, an autographed poster, disk or T-shirt.
Карта участников имеет иерархию которая расчитывается исходя из активности пользователя и приглашенных им друзей. Это влияет на то какие бонусы в итоге получает участник. Например: Велосипед «Electra», +1 на афтепати с кумиром, плакат, диск или футболка с автографом.
Tickets purchased or received as a gift are saved in user profile and are allowed to pass them to
other participants.
Все купленные или полученые в подарок билеты сохраняются в профайле пользователя с возможностью передавать их другим участникам. 
за то что согласились первыми  принять участие в этом проекте.