Timelapse Reel (2011-2013)
As I started getting into photography, I knew from the beginning, that I wanted to get into timelapsing. So over the past few years I started collecting timelapses from various locations. No plan in mind, just shooting when I felt like it. It this point I just wanted to get a better feeling and understanding for it all. I was learning and will always be learning photography. So I wanted to touch up my skills before jumping right into timelapsing. As I am now starting to invest in a track, I realized it is finally time to put together my first edit of all my previous work. Also included here, are various images which I took before/after a timelpase as well as shots from the actual timelpase. I included a couple stories as well. Enjoy
Locations:
Zakim Bridge in Boston, MA
July 15th Aurora at Sparks Lake in Bend, Oregon
Perseids Meteor Shower in Davenport, CA
Mount Sopris/Milky Way in Carbondale, CO 
All over San Francisco and the Bay Area
Gear:
Canon 7D
Canon 5D MK III
Canon 17-40mm f/4 L
Canon 17-35mm f/2.8 L
Canon 70-200mm F/4 L
LEE Big Stopper
LEE .9 + .6 Soft Grad ND Filter
Induro CT214 Carbon Tripod
Process:
Processed all in Lightroom 4 and After Effects CS6
Music:
Frost Flowers by Evelyn Glennie & Phillip Sheppard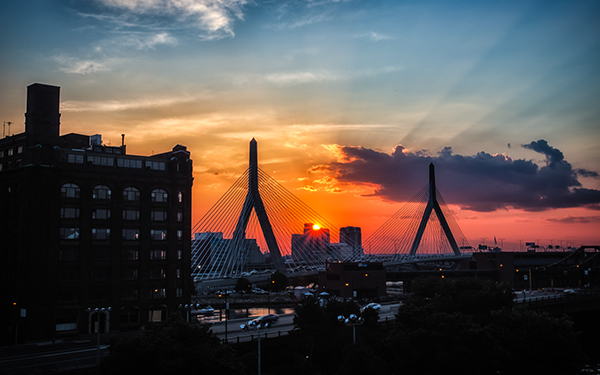 The Secret Service Approach
Well I didn't shoot the Zakim Bridge as much as I would have liked. I had so many spots I wanted to get it was hard to hit them all at the right time. There is one spot I really wanted to get but it might have to wait until I can pay my way to it! 
So we wandered around the area for a bit trying to get the perfect spot. For a while I just wasn't happy with any angle that we came to. Finally we saw this parking garage and had to get to the top of it. So we walk in, went up the stairs to the top deck and found this pretty awesome view. It had a ledge, so I just spread the tripod legs and put it over the ledge and it held up nicely. I started taking some bracketed shots and then did a timelapse for the rest of it. 
Down on the street we noticed this couple which were on a run and all geared up for it. The kept looking up at us though, like something was up. My tripod did look a bit odd the way I had it clawed around the ledge. But it's just a camera with some filters on it. It looked like the women runner was trying to get into the building or something. I figured she had to go pee. But she comes back out and they continue to stand around glancing up at me. Then a women who worked in building walks out leaving work, but always gives us that weird look. As I am continuing my timelapse, I turn around and see this giant secret service looking guy walking at us. I thought to myself, "this guy definitely doesn't work for the parking garage!" He was all decked out, ear piece and suit. Then he asks me if we are with the press, and I reply that I am just shooting the sunset. Simply said, he says thats all he needs to know and leaves. I have more trouble at public buildings, and this was Secret Service, hummm. 
That is when were started questions about what building is across from us. So my buddy googled the address and found out it was Mitt Romney's Sponsorship Headquarters, haha, that explains it all. And I am pretty sure the runners where undercover and just circle near by all day. Who knows! 
Well that is my little story behind this shot. Hope you enjoy.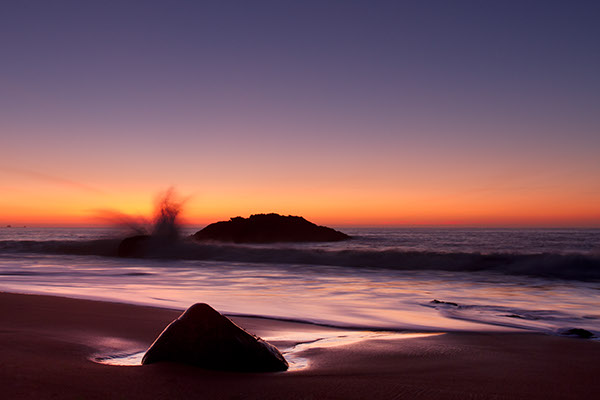 Aurora Trails - Sparks Lake, Oregon
After seeing so many incredible images from the previous nigh of the Aurora, I decided to take a little trip, a 18 hour trip that is!
It was 1pm when I decided to go and was out the door by 2pm and on my way to Sparks Lake, Oregon. I definitely didn't plan to well, not that I had to much time to. Service wasn't great at all. When I got there I wasn't exactly sure where to go, so I took a road around the lake trying to find this shot. I got lucky and drove right to it, all at around 9:30pm. I got some shots just before it got really dark and then started to timelapse for a bit. I think I was a night late on the Aurora though. At least from the pictures I saw from the night before I was. I still got some pinks though. But not much you could see with the naked eye. But all the color was pretty much gone by midnight anyways. I am glad I got there when I did or I would have missed it all.
I drove around to get some Milky Way reflections and then decided I got what I came for. Sleep in my car or drive was my question? 1:30am and I decided to hit the road. I was hoping to get somewhere interesting by sunset, maybe I should have stayed and got sunset at the lake :) Next time! But I was around Shasta Lake in Redding, CA for sunset and blue hour. And during blue hour it looked so surreal from the road. I took about 4 different exits, drove back and fourth and down all these random roads looking for somewhere to get a shot. I couldn't find anything at least not before the sun came up. So in disappointment I drove the rest of the way home and was in bed by 9am. That sure was a fun, quick little trip! Definitely will be doing more of these :)