One week : seven self-portraits for seven days. Always with double exposure.
LUNDI - Entre quatre murs
A force de vivre entre les quatre murs et devant l'unique fenêtre de mon petit appartement parisien, je ne sais plus si j'habite chez moi ou chez mes voisins.
MONDAY - Between four walls
By dint of living between four walls and in front of the only window of my little Parisian apartment, I do not know if I live in my flat or my neighbors.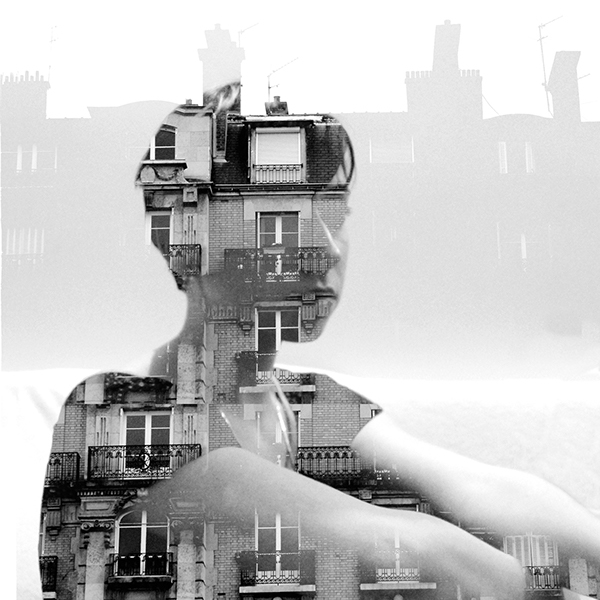 Hier soir, j'ai rêvé d'un insouciant voyage. J'empruntais un chemin mais ne voyais pas l'horizon. je ne savais pas si je revenais sur mes pas ou si c'était une toute nouvelle direction, mais cette incertitude me rendait étrangement sereine.
TUESDAY - On the road
Last night, I dreamed of a carefree trip. I borrowed a road but couldn't see the horizon. I don't know if I came back on my feet or if it was a whole new direction, but with this uncertainty, I feel  strangely serene.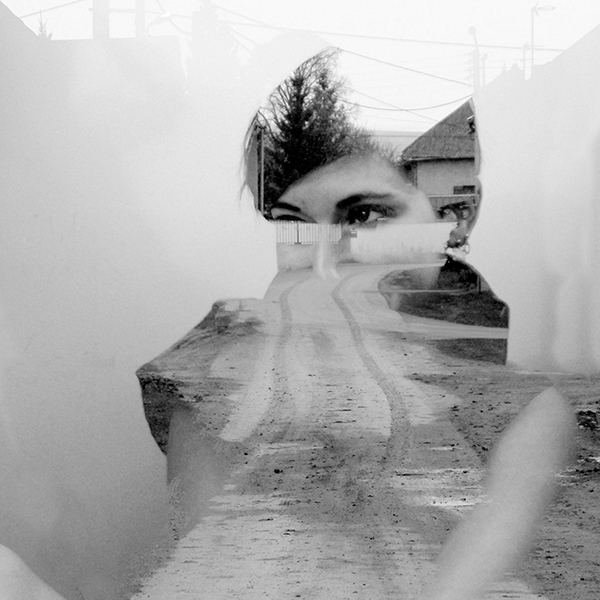 MERCREDI - En construction
Il vient toujours le temps des reconstructions. Je le redoute souvent, je l'attends parfois. Mais dans tous les cas, construire et emprunter une nouvelle voie m'enthousiasme et je m'y engouffre à chaque fois. En espérant que celle ouverte aujourd'hui soit la bonne !
WESDNESDAY - Under construction
Aujourd'hui, j'ai perdu la notion du temps : Dormir au moment de se lever, déjeuner à l'heure du dîner. Le temps passe et repasse au dessus de ma tête à l'image de ce vent irrationnel qui souffle depuis le début de la journée à Paris.
THURSDAY - Time
Today, I lost track of time: Sleeping at the time to get up, breakfast at lunchtime. The time comes and goes over my head at the image of the irrational wind blowing since the beginning of the day in Paris.
VENDREDI - La jungle parisienne
Il y a certains jours où malgré les sons et les gens environnants, je me sens un peu seule. Ce vendredi est l'un de ces jours, je me sens oppressée par cette ambiance parisienne que j'aime tant d'autre fois. Comme une petite fleur sur un rebord de fenêtre dans la jungle parisienne.
FRIDAY - The Parisian jungle
There are some days when even the sounds and the people surrounding me feel a bit lonely. This friday is one of these days, I feel oppressed by the Parisian atmosphere that I love so much some other day. As a small flower on a window ledge in the Parisian jungle.
SAMEDI - Retour aux sources
Traverser quelques villes pour rentrer dans ma ville natale. 1h40 de train pour un retour au source que je m'offre parfois le week end.
Le lundi, en reprenant le chemin de mon quotidien, j'essaie de conserver le goût de cette source revigorante et motivante et de le faire durer jusqu'au samedi suivant.
SATURDAY - Back to Basics
Through a few cities to go back to my hometown. 1:40 train for a return to the source that I offer me sometime the weekend.
Monday, returning to the path of my daily life, I try to keep the taste of this invigorating and motivating source and make it last until the following Saturday. 
Un dimanche ensoleillé, au café du murmure. Ce dernier jour de la semaine où tout marche au ralentis, même les passants dans la rue, m'apaise. Mais j'entends déjà le murmure de la semaine qui revient alors je tourne ma cuillère dans mon café pour en masquer le bruit et pour en profiter encore.
SUNDAY - The whisper
A sunny Sunday at the "coffee whisper". The last day of the week when everything works in slow motion, even in the street, soothes me. But I can already hear the whisper of the week is back. So I turn my spoon in my coffee to mask the noise and enjoy it again.