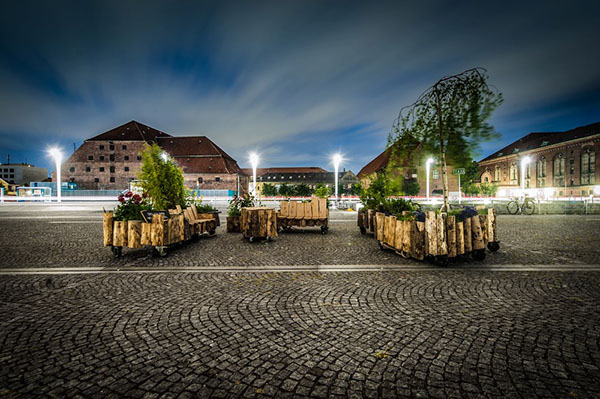 From 21 June to 30 June 2012, In the summer nights, we have wandered through the citystreets with a piece of nature dancing after us. Every morning, the garden put down its roots in front of a new apartment building, and the residents came out to a surprising and welcoming experience. The garden popped up where you least expected it. The garden was enjoyed and we talked about garden memories and garden dreams. We have met amazing people and stories along the way, thanks to all of you who came to visit and share your stories and thoughts with us.

You can hear a selection of the many wonderful stories we have gathered on our way here;
http://soundcloud.com/core-act/tracks?page=1

We have hiked about 22 kilometers with the garden, from Holmbladsgade, Chrimas Møller Space, Dovregade, Njalsgade, South Harbour Station, Alsgade, NRD. Fasanvej, Lundtoftegade, Frederiksundsvej / Frederiksborgvej to the Black Diamond.
http://www.youtube.com/watch?v=8k4X_ptHmJs
Idea and concept; CoreAct i.e. Anika K Barkan & Helene Kvint
Garden design and construction; Bureau Detours, by Benny Jepsen & Kristoffer Tejlgaard
Sound design; Astrid Lomholt
Video documentation; Johanne Ihle
Photo documentation; Andreas Bergmann Steen