Munich born poster girl for late 60's rebellious German youth, Uschi Obermaier (a.k.a. Chrissi Malberg), was a strikingly beautiful dimunitive fashion model, actress and muse.
Rumoured to have had affairs with Keith Richards, Mick Jagger and Jimi Hendrix.
Uschi and Reeperbahn club owner Dieter Bockhorn led a bohemian lifestyle, travelling extensively through the subcontinent and Mexico in a customised bus. They were the teutonic equivalent to John and Yoko.
Marrying in India, their turbulent relationship ended tragically when Bockhorn was killed on his motorbike on new years eve in 1983.
Her authorised biography, High Times, was adapted into a film called Eight Miles High (originally titled Das Wilde Leben).
Obermaier lives in Topanga Canyon near LA, working as a jewellery designer.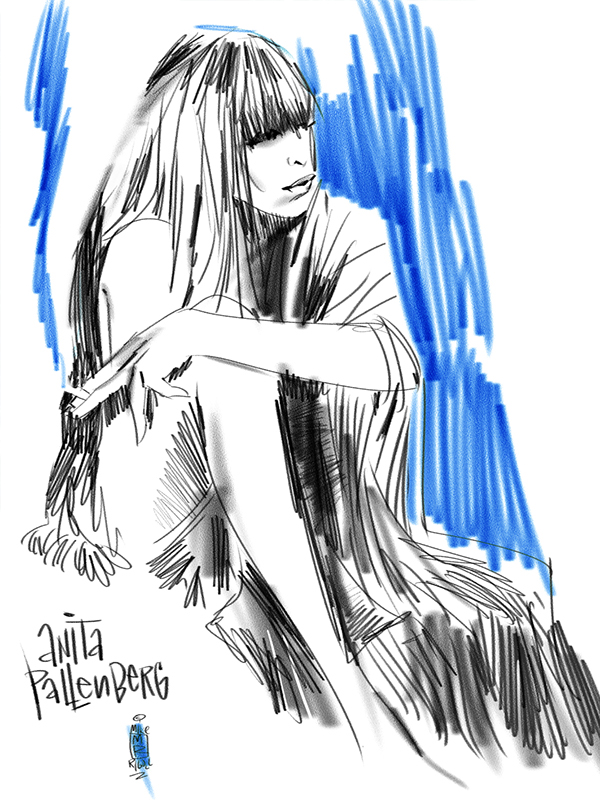 Actress, model, singer, fashion designer and hedonist, Anita Pallenberg was born in German occupied Rome in 1944 to Italian artist Arnaldo Pallenberg and Paula Wiederhold.
Pallenberg, perhaps justifiably on the surface, may be thought of as simply an uber-groupie to the Rolling Stones having first dated Brian Jones until his untimely death by drowning, partnered Keith Richards, with whom she has two surviving children and was also said to have had a brief, albeit unsubstantiated affair with Mick Jagger.
But the stunning, lithesome blonde was far more multifaceted.
Fluent in four languages since her youth, she was highly intelligent and articulate. Mick Jagger sought and held her opinion in such high regard that tracks from the album, Beggars Banquet, were remixed due to her dismissal of the initial recording.
She was an incredibly strong woman, physically and intellectually.
Pallenberg was feisty to the point of violence, was a heavy substance abuser but had the constitution of a bull. Jagger, in an interview with Rolling Stone magazine, claimed that she, "nearly killed me", when asked if the Stones had any responsibility for the drug addictions of people close to the band.
Her tumultuous life included being charged for heroin possession, pleading guilty to possession of marijuana and being held under suspicion, but subsequently cleared, of the manslaughter of a 17 year old boy in the employ of her and Richards in 1979.
Pallenberg, also known to have dabbled in 'the dark arts', remains a close friend to her contemporary and fellow artist Marianne Faithfull and divides her time between New York City and the continent.
Jane Birkin, British actress/singer and muse to French singer, songwriter, poet and chain-smoking protagonist Serge Gainsbourg.