Projecto de audiovisuais. Faculdade de Belas-Artes de Lisboa, 2012.
Website/ Mupi Interactivo
Objectivo: criação de uma campanha cross-media com a finalidade de ajudar uma associação à nossa escolha.
O conceito da campanha centra-se na criação de uma plataforma que procura proporcionar aos utilizadores a oportunidade de "criar" música, através de um ambiente interactivo, sonoro e visual, que lhes permite seleccionar, activar e desactivar loops sonoros previamente inseridos na plataforma. Estes loops estão por sua vez aliados a loops visuais (em forma de vídeo), que representam o interprete a tocar aquele pedaço de música específico.
O objectivo passa por envolver os utilizadores no mundo da música, para que mais tarde estejam abertos a  valorizar a importância da música no desenvolvimento das crianças e adolescentes, e assim apoiarem a APEM.
O conceito da campanha é transversal aos meios nos quais ela toma forma. Assim, à semelhança do site, o MUPI consiste num ambiente interactivo que procura, tirando partido do vídeo e do som, dar aos utilizadores a oportunidade de criarem a "sua" música. Para isso podem escolher 4 loops de vídeo/som em simultâneo (de um universo de 16 loops), para criarem a sua música, que vai ser interpretada pelos músicos dos loops de vídeo.
Numa primeira fase o mui está inactivo, apresentando a frase "qual é o teu ritmo", e transmitindo ocasionalmente música gerada aleatoriamente.
Numa segunda fase, vemos um dos músicos em destaque, a interpretar o loa, acompanhado pelos restantes 3 músicos (em baixo). 
Numa última fase, o utilizador pode seleccionar os diferentes loops através da interacção táctil. 
/
"Qual é o teu ritmo?"
Audiovisuals project. Faculty of Fine Arts of the University of Lisbon, 2012.
Website / Interactive Mupi (billboard)
Objective: design a cross-media campaign to help bring attention to the music education teacher's association (APEM).
The campaign's concept focuses on the creation of a platform that gives the user the possibility to "create" music, through an interactive, visual and sound ambient. This platform will allow the user to pick different sound / video loops to create different moods - drums line / guitar line / vocal line / keys line.
The main goal is to get the average user to "discover" what music playing and creation is about, so that by the end he is more open to value the music´s education role on the kid´s growing up process, and thus support APEM.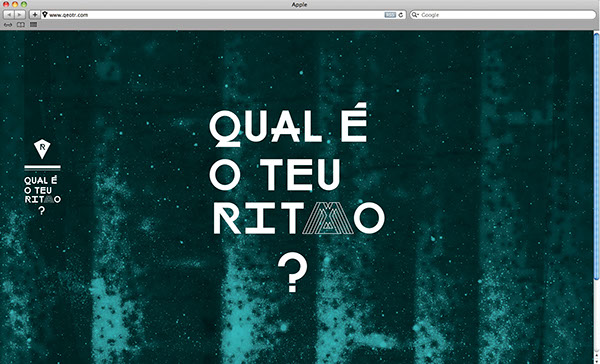 O menu inicial do site consiste numa forma geométrica que está em constante mutação  - referência a esta   característica da música.
/
The main menu is an interactive everchanging geometrical shape - a bit like the music scene nowadays.