Concept Phone
Personal Communications and Organization Device

Concept future phone:
The PCOD (Personal Communications and Organization Device).
This device combines - smart phone (with video calling), camera, GPS, mp3 player,
storage (for photos, files etc.), time/date/calendar, games, app's and much more.
The PCOD would also come with changeable holder/straps in various colors and designs -
and the screen wallpaper can be changed to match the chosen holder.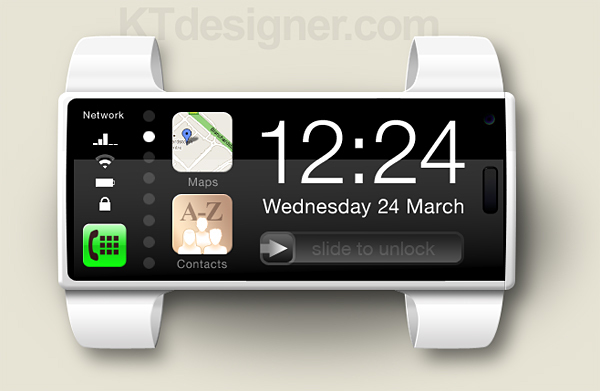 This would be the default screen (above), showing the time, date, network connection icons, first two chosen app's, and the keypad button. All of this UI would be configurable to whatever the owner prefers. For example - the user could choose which two app's show first (more app's are available by scrolling up or down), and the keypad button/icon could be changed for something else like favorite contacts etc.
In the example above we can see
Joy
has made a video call to
Earl
. Earl can see a small preview video image of himself in the bottom left (so he can see what Joy is seeing). Earl can also see that the video camera is on - by the red blinking light under the camera (top right).
In the examples above we see how the holder (wrist straps in this case) are changeable to whatever colors the owner prefers. The screen background is also changeable to match or compliment the holder. This is just one type of holder. The phone could also be used like a regular mobile phone with or without a cover - e.g. not strapped to the wrist.
Here we can see some basic plans for how the holder and phone could work. The phone slides into the wrist holder and clicks into place. Of course the phone can also be used without the wrist holder (using regular covers like other phones).

The basic specifications of this phone could be: