5th Annual Wrightsville Beach Biathlon Results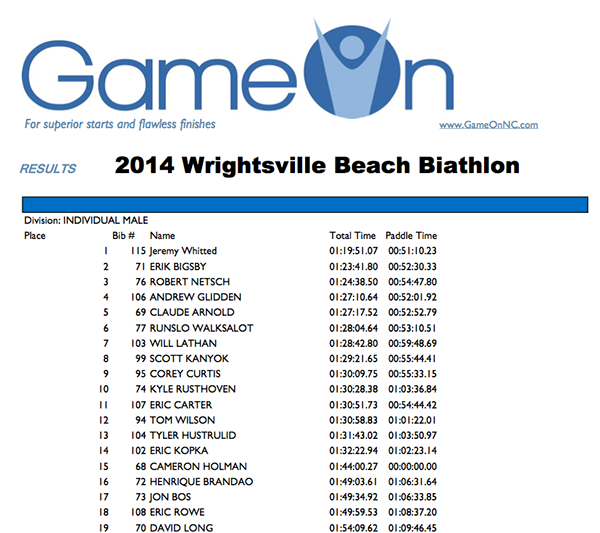 5th Annual Wrightsville Beach Biathlon
5th Annual Wrightsville Beach Biathlon
Wrightsville Beach Biathlon Seeks Best Paddleboarders and Runners
for 
Masonboro Island Benefit
Wrightsville Beach, N.C. - Stability and speed, agility and endurance, on the water and on the sand, will determine the winners of the 5th annual Wrightsville Beach Biathlon when the two sports converge on Saturday, March 22.
"This race is a good warm-up after a long, cold winter," said Jarrod Covington, Wrightsville Beach Biathlon chair and race director. "Local paddlers have stayed active in the ocean, especially because of the winter storm waves we have seen recently."
But flat water paddlers are a different beast in the winter months, Covington said. With weather conditions improving daily, he predicts biathlon athletes will feel water temperatures ranging from 50-60 degrees F and air temps in the 60s.
"The cold water is a motivator to stay up on the board and spring-like temperatures are excellent for a beach run," Covington said.
The 4-mile channel and waterway course and the 4-mile pier-to-pier beach run course are strenuous challenges for rebuilding endurance and training competitively. Who crosses the finish line first may come down to the details: water currents and tide charts, SUP board and paddle choices, clothing and footwear, or relay team matchups.
For two consecutive years, the Bike Cycles of Wilmington, N.C. team anchored by marathon runner Matt Whistoff claimed the relay championship with times o f 1:19 in 2013 and 1:13 in 2012.
Covington, himself a two-time individual men's champ (1:14 in 2013, 1:20in 2012) said he won't compete this year but expects plenty of local contenders, adding, "the Charleston (S.C.) crew led by Jeremy Whitted will most likely make a strong appearance."
Two-time women's champion, Kimberly Sutton, (1:26 in 2013, 1:34 in 2012) may be returning, Covington said, "but this shouldn't discourage anyone from coming out and going for the upset."
Covington and others will lead clinics to be announced during the days leading up to big race and a portion of registration fees will benefit For Masonboro, a nonprofit citizens' advocacy group that serves to protect Masonboro Island, an estuarine reserve and native habitat for diamondback terrapins and nesting loggerhead sea turtles, among other species.
Though not the first race of the calendar year to be hosted by Wrightsville Beach and the Blockade Runner Beach Resort, the Wrightsville Beach Biathlon is considered the launch of the SUP season in the southeast Atlantic's regional mecca for clean water sports, followed one month later by the Carolina Cup in April.
"SUP is very much still hot and always will be as long as people enjoy exercise and being outside on the water," Covington said. "The flat water exercise, marsh exploration and family/friendly adventures will never grow old."
Jarrod Covington, Chairman and Race Director
Wrightsville Beach Biathlon
jarrod@wrightsvillesup.com 
Saturday, March 23, 2013
Winners: 2013 Wrightsville Beach Biathlon
Wrightsville Beach, N.C. ... The competitive SUP season opened today in North Carolina with the 4th Annual Wrightsville Beach Biathlon at Blockade Runner Beach Resort. All 2012 Champions enjoyed repeat victories: Bike Cycles (Matt Whistoff and Chris Johnson), Team Relay Champion; Jarrod Covington, Individual Male Champion; and Kimberly Sutton, Individual Female Champion.
The first leg of the race was a four-mile standup paddleboard route looping Banks Channel to Money Island into the Intracoastal Waterway, through Motts Channel and back to the starting point.
With the race half over, biathletes and relay team members left the water and sprinted toward the oceanfront in a four-mile pier-to-pier foot race in beach sand to the finish line.
Relay Team Winners
Bike Cycles (Matt Wisthoff, Wrightsville Beach, and Chris Johnson, Wilmington)
Lighthouse Beer and Wine (Jason Adams and Kevin Rhodes)
Cape Fear Analytical (Mike Medwedeff and Rob Moore)
Individual Men's Division Winners
Jarrod Covington, Wrightsville Beach
Jeremy Whitted
Will Kealy
Individual Women's Division Winners
Kimberly Sutton, Wilmington
Dawn Ehman
Karen Wilson
Timing results by GameOn: www.gameonnc.com
Men's Individual Champ: Jarrod Covington (1:20:03), photography by Lumina News | Emmy Errante
Men's Individual Champ: Jarrod Covington
2012 Team Champions: Bike Cycles (Craig Stephens, SUP; Matt Whistoff, Runner) (1:13:40)
2012 Team Champions handoff: Craig Stephens, SUP; Matt Whistoff, Runner
Women's Individual Champ Kimberly Sutton (1:34:15)
Robert B Butler Advertising, Marketing, Public Relations  www.ncPressRelease.com