BEE

loved
is a perfect brand name, synonim for luxury and quality. The name itself is sonorous, clear, memorable and striking.
Denotes

 the product
 -

honey

&
connotes
association for love and caring for loved once&people who are important to you. At the same time, it should become an essential product that you will adore, and gladly, with joy you'll consume it. We strive to be an indispensable part of your life and most joyful moments with your loved ones.
Our initial idea was to create a
luxury
product, the product of the highest standards. 
Sophisticated, fresh and modern,
 should be differentiated from other brands in the category,
through innovative design and successful branding.
Our product is designed for special occasions, such as celebrating, birthdays and
various types of events, but also for more intimate moments with a loved one.
BEE

loved
honey, as well as our customers, is refined, sophisticated and intelligent & flirt
and interact with consumers in a smart and seductive manner.
A luxury product line is what the market is missing and lack of, and with our unique packaging in combination with natural, quality honey, presents a
visual treat
also.
BEEloved is the name of honey, intended for the new generation that enjoy the full experience of the products, where are equally important 
good packaging design
,
taste
and
quality
.
There are three types of honey, with superior taste, designed for modern men and w
omen
who live a healthy lifestyle, take care of themselves and appreciate refreshing taste, and elegant and effective design.
some of the typography&logotype
sketches
INSPIRATION for the
logotype
INSPIRATION for the 
typography
The logo is in accordance and harmony with the packaging and the name, and describes the product.
Logo came out of stylized
bee
, and the lines and form resemble a
diamond
,
something noble and gentlemanly.
Logo is combined with modern western typography, with beautiful
Archer
. 
Using different thicknesses of characters we get dynamism and impressiveness of the visual identity. 
That type of use of typography in packaging appearance is unusual in the domestic market, which sets it apart and stand out from the competition.
It can be used for different types of products and textiles, such as paper bags, wrapping paper etc.
Some of the BEE

loved

honey tastes are

Star Thistle

taste,

Cranberry

taste and

Buckweat

taste.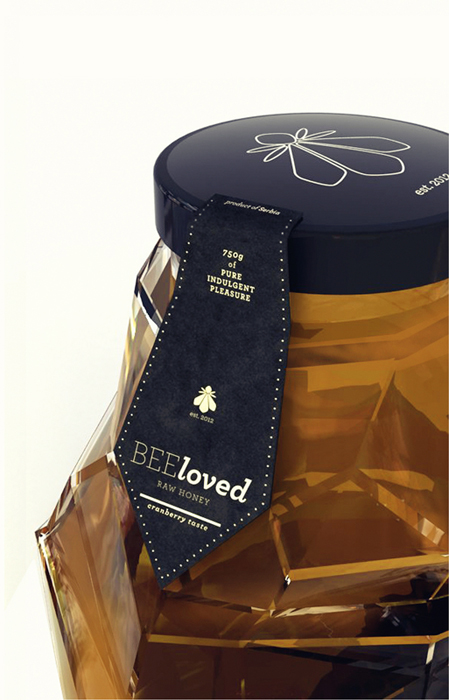 Such an exclusive product in many ways different and stand out from other ordinary honey packaging on market.
Simple, clean, yet effective packaging design has been achieved by refreacted form that draws its inspiration from nature. The structure resembles a piece of rock rolled away (detached piece of rock), raw gemstone, diamond and hexagon shape - the honeycomb.
Form draws
attention in the retail space, In addition to the primary purpose, BEEloved honey can be used as a decoration and part of the interior. Beside proven quality and functional use, this is a product with equally decorative purpose. Packaging design can and should have a purpose even when the product is consumed. However, it can communicate even as a standalone product design, an element that will enhance your living space.
BEEloved honey contains in itself a piece of honeycomb, in the form of a pyramid.
Logotype should be incused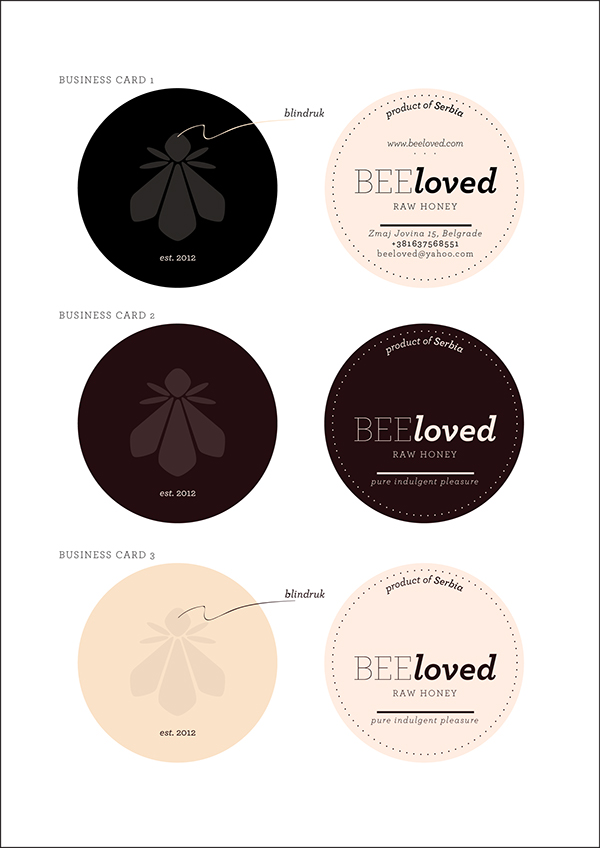 STAY HEALTHY, FEEL YOUNGER.