NORAH'S LAST NIGHT IN NYC
SHORT STORY & MAKING OF
Issue #647 of
"The Amazing Spiderman" came out last week in the US, marking the end of the "Brand New Day" saga. Thanks to its editors Tom and Stephen, I've been lucky enough to work on a 5-page short story written by Joe Kelly in which I did everything from the pencilling to the lettering.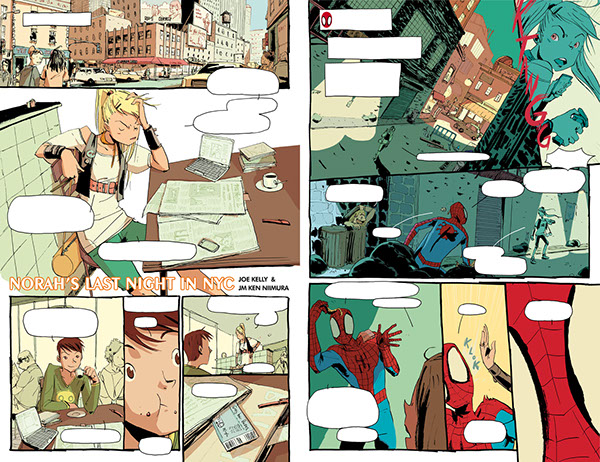 And here's a short "making of" to show you an insight of its creation.
Step 1:
Following Joe's script, I did quick black and white breakdowns, imagining at the same time where and how to put the colors. Altough they were only 5 pages, they had quite a lot of dialogues, so it took me some time to find a nice way to put everything while keeping a good reading rhythm.

Step 2:
I drew and inked the pages, which allowed me to save some time, as my pencilling's rather chaotic. It was my first time using Marvel's paper, so being a bigger format as the one I usually use, I included more details in the drawings. I also drew the pannel borders (that's something I used to do with Photoshop) to have a clear idea of each page's structure.
Step 3:
Once the drawings were scanned and retouched, I put some first colors working on all 5 at the same time to have an overview on the whole. It's the moment where I can calculate the color scheme and rework the reading using chromatic contrasts. One other advantage is that I can handle some elements relying exclusively on the color rather than on the raw drawing to make each pannel more expressive.
Step 4:
This is when I finished coloring, possibly one of the most boring steps, but also very exciting, as this is where I start seeing what the pages will finally be like.

Step 5:
The last step were lettering and retouches. Although I already thought of their placement, lettering is a very delicate step, as it can completely modify the reading. Some pannels were also slightly modified once the balloon added, whether because some elements were hidden by the text or because by adding the text balloons and therefor having more white tones to the pages, some images needed more relief. Done!