Eastern Electrics May 10
Our latest series of print advertisements and posters for Eastern Electrics' May Bank Holiday special. Featuring the Eastern Electric girls interacting with neon lights photographed by
Beth Crockatt
.
Eastern Electrics Various 10
Various printed posters and material advertising Eastern Electrics' ongoing series of club nights.
Eastern Electrics August 09
For the August Bank Holiday special event that Eastern Electrics organised a series of posters featuring the Eastern Electric girls styled with fluorescent makeup and lashes were created. The images were shot under a UV light by
Beth Crockatt
and show the girls emerging from an inky blue/black background.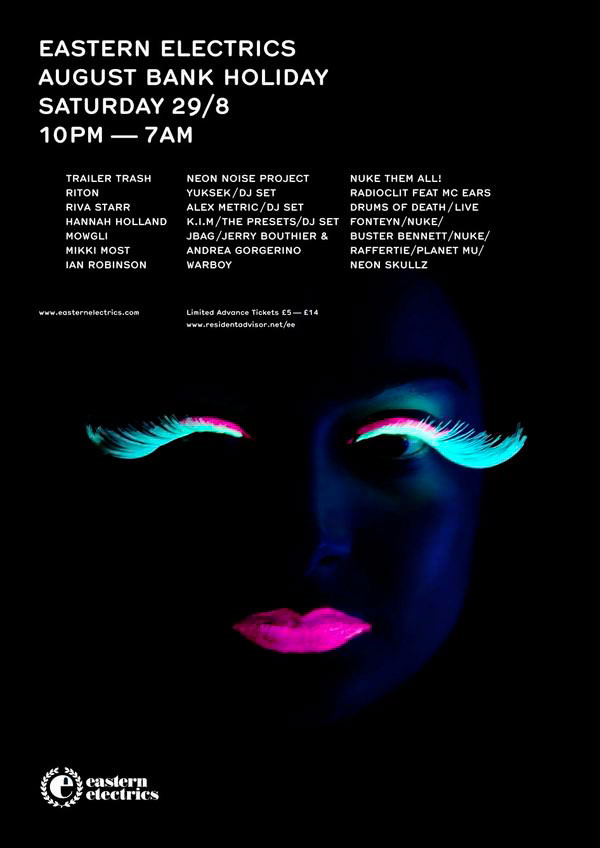 Eastern Electrics NYE 10
Posters and promotional material created for Eastern Electrics' party celebrating the arrival of 2010. The EE girls came back in for an electric party with photographer
Beth Crockatt
.
Eastern Electrics NYE 08
A series of posters with hidden symbols that could only be seen whensmall or when stood at a distance from the poster were designed for 2008 New Year event.
Eastern Electrics May 09
A purely typographic treatment was chosen for Eastern Electrics' May 2009 event. Playing on the month of the event, a series of playful slogans which coupled with the emphasis of the 'e' within the posters created a series of strong campaign visuals.