[Alternative Playground] International Design Workshop
2012/12/10-14
By Prof. Shin Azumi @ Shih Chien University
inspired and designed by Chien-Chin Wang / Tien-Chi Chao / Yen-Ting Lin
In this workshop, we look at the whole public area of Shih Chien University as an alternative playground, and create our own play equipments to entertain ourselves.
Each participant or a group chose their own favourite place within the site, and think the way to entertain other people with their creations.
As the end result, participants need to create a physically working model, such as tools, equipments and installation, in order to provide entertaining experience for the audience. On the presentation day, all participants tried to enjoy the outcome together. 
When we first heard of the subject, the Alternative Playground, of this workshop, the intriguing topic brought us to reminisce the childhood indulgence of fun and games. Unlike those stringent product design guidances, this main theme of the workshop had us focus only on one thing---FUN. The workshop lecturer, Mr. Shin Azumi, gave us a briefing of his career and working philosophy in the introduction. Then he began the summary of the workshop, or by his own words, game creating experience. He put an important aspect out front---

we should have fun ourself before it is able to entertain others

. This turns out to be the driving force for his work for years. "Doing things you like will keep you going."
Nevertheless, to finish a certain level of completion in such a short time was not easy. Our site of choice had been changed for few times.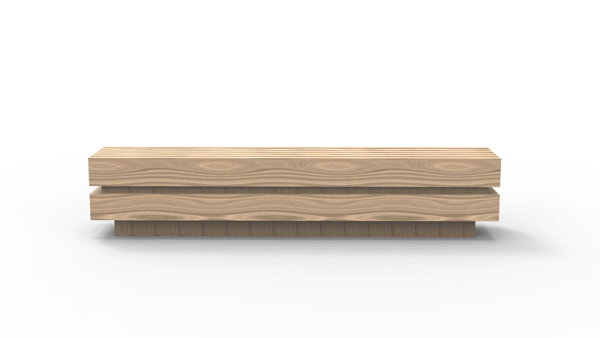 An important note from Mr. Azumi was that we could find a site that has our installation as a part of it, and at the same time attract people to participate without any footnote or indication of usage. The structure had to be interesting enough to attract people. This actually gave us hard time generating an executable idea within budget and time frame. We had been trying to crack the code how to not force people but draw their attention to get close to our feature and ultimately use our installation. 
Eventually, we set our plan as we chose to line up an additional bench along with the existing few in front of the library. The fun part is that it was more than a bench. People would find out it actually acts as a seesaw once sitting on top. The subtlety of the installation made it an easy disguise to observers.

Thus, the attraction was not how to show it off, but how it seemed to be a normal bench for passerby to sit and rest

. And that was the moment the surprise took place.
It was a pity that we only left two days to the presentation after we came up with the idea of Seesaw Bench. We did our best in the last two days to complete the bench: finding materials, testing the structure and assembling every single part. Fortunately, though we had undergoing some problems, we completed the achievement before the presentation.