La Bruja Project
A collaboration of poetry and graphics.

Caridad De la Luz aka La Bruja is a native new yorker from the Bronx. She is a poet, actress and activist. Her most notable works have been performed at the Nuyorican Poets Cafe, The Puerto Rican Traveling Theatre and HBO's Russell Simmon's Def Poetry Jam.  In 2002 she gave a reading entitled "WTC" (World Trade Center) simply by utilizing the three letters of the historic acronym which reminded her audience how complex the events of 9-11 are and continue to be.
Artist Oliver Rios was born and raised in NYC. His artistic talent gave him notability in NYC by painting murals and airbrushing in the late 80s and 90s. Working with the general market, as well as the Hispanic market inspired Rios  to create Orios Designs. A design company which uses Graffiti, Photography, typography, Illustration and traditional mediums to help his clients achieve their creative goals.
"I have been a fan of La Bruja since the day I met her in 1994. Her energy, talent and good spirits has lead her to become an iconic presence in our community.  La Bruja and Orios Designs together bring you, La Bruja Project, a collaboration of poetry and graphics.
Oliver Rios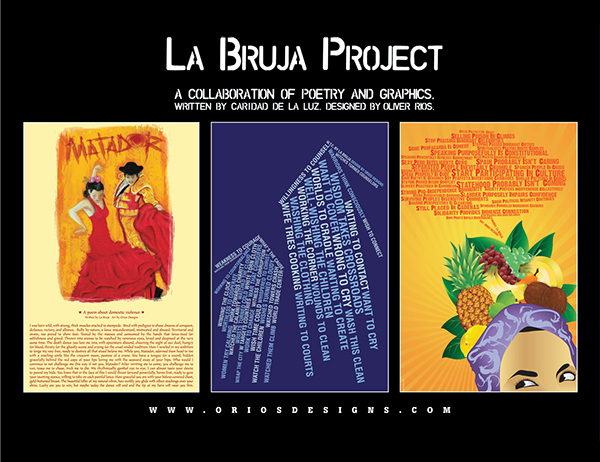 Retire #21 - Written by La Bruja. Artwork By Orios Designs©2010
Ahora Y Siempre- Written by La Bruja. Artwork By Orios Designs©2011
La Perla Del Caribe- Written by La Bruja. Artwork By Orios Designs©2011