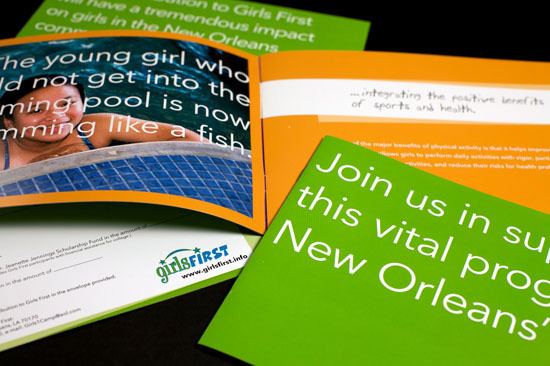 A promotional direct mail piece was created to reflect the fun, learning aspects of the organization while conveying a level of credibility to support fund-raising efforts and appeal to potential donors.
Girls First is a 501-C3 non-profit organization dedicated to providing sport and movement opportunities to underserved girls in the metropolitan New Orleans area. Girls participating in the program attend a weeklong residential sports camp held annually on the Tulane University campus and are encouraged to attend monthly activities throughout the year. The weeklong camp features supervised instruction in swimming, team and individual sports, outdoor recreational activities, nutrition, and health education. Campers are housed in traditional residence halls. Through year-round programming, girls are able to reinforce and build upon their newly acquired sports skills, develop positive body image, and learn to work in teams. Activities promote and encourage relationships between the girls as well as with counselors and volunteers.
Visit the Girls First website for more information.