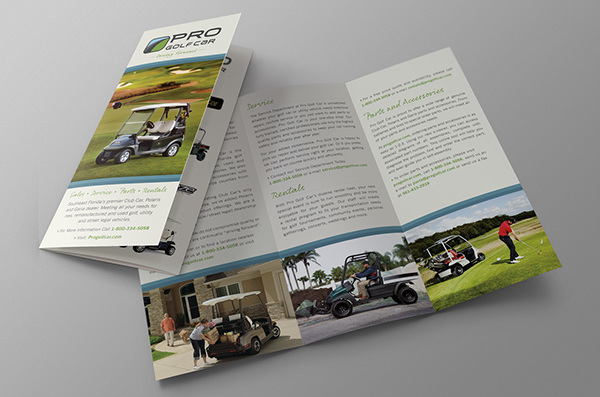 Lackluster Local To National Player
Professional Golf Car Corp, a Florida business of over 25 years, owns and operates Club Car's only authorized dealership in Southeast Florida. They sell and service new, used and remanufactured energy-efficient golf cars and utility vehicles for personal and business use.
The Problems
The group of investors that purchased Pro Golf Car bought into a brand was outdated, unfocused and confusing to potential customers. The company was suffering from negative consumer perception after the previous leadership ran the company into the ground. The customer base was systematically seeking a more buttoned up alternative – Pro Golf Car's nearest competitor.
The Solution
Saint Pierre Creative overhauled the brand to position Pro Golf Car as a forward thinking, high-end company keenly focused on quality. Based on findings within the industry and strategies from successful brands outside of the industry, we successfully established an emotional connection with the residents of 400 Florida golf course communities.
The completely redesigned brand ecosystem—now fun, sunny and lifestyle-driven—has given the company new life and an edge in a competitive, specialized market. The new website provides a compelling web experience that not only showcases the products and services, but also drives a new stream of significant revenue, thanks to the site's ecommerce storefront. The overall strategy called for the company to open two new game-changing showrooms in high-traffic shopping districts – a move modeled after Lexus dealerships. Pro Golf Car went from being a troubled local business to a serious competitor among the industry leaders nationwide.