Create a identity and 
graphic language that reflect the unique nordic models and 
butique concept of the 
newly formed model agency "Minus 20".
"Runes", old nordic typograpgy used by vikings grasped our interest and created that graphic space and nordic touch we were looking for. The "Rune" style typography was simplified and then brought in to the logo (seen on the first picture on the business card). The UX for the model agency website was a big part of the execution and thanks to Victor we were able to set a nice tone on it. 
Many thanks to
Victor Eredel
 for letting us use his fantastic photos from the "2012 iceland case".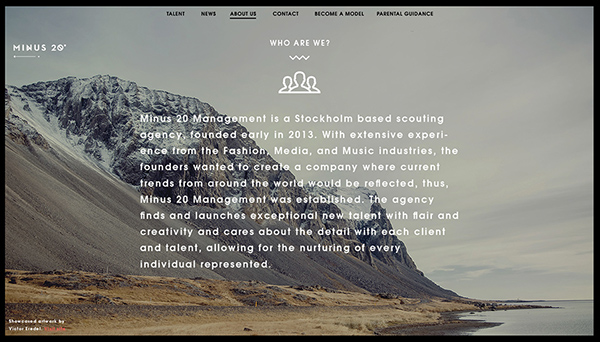 We are very happy for all the appreciations,
we have also received a
 honorable mention on awwwards.com