Hyde Park Convict Barracks, Sydney
Mural Project

The Historic Houses Trust of New South Wales (NSW) commissioned me to create a mural depicting the journey of convicts from England to Australia.

The first large tableau illustrates a scene at the Tyburn Tree gallows just out of London circa 1760's and the crowds that would attend such executions all the way through to prisoners fare-welling loved ones, 1800's, to eventual arrival in Sydney Cove, 1830's.

The second mural depicts a typical convict work gang at morning muster within the grounds of the actual Barracks building. The Barracks building was designed by Francis Greenway, himself a convict transporte

d to

Australia.
Project time from brief to completion was three months. Actual painting time, ie oil paint to canvas, was just under four weeks. The compositions and drawings for this project were created digitally and based upon sketches, 3D layouts/models and photography of actors in authentic dress and costume.
Those digital drawings were printed onto canvas, (in four panels, 3 panels for mural 1, one panel for mural 2), which were stretched and subsequently painted in oils.
Total length of mural 1 was 180" x 42"  (4.5M x 1M). The final painted panels were then scanned and the final mural printed to 15M x 3.6M on canvas strips. These strips were then wallpapered to a false wall.
Mural two was also painted in oils on canvas at 1.5M x 1M with a final print of approx 5M x 3.6M.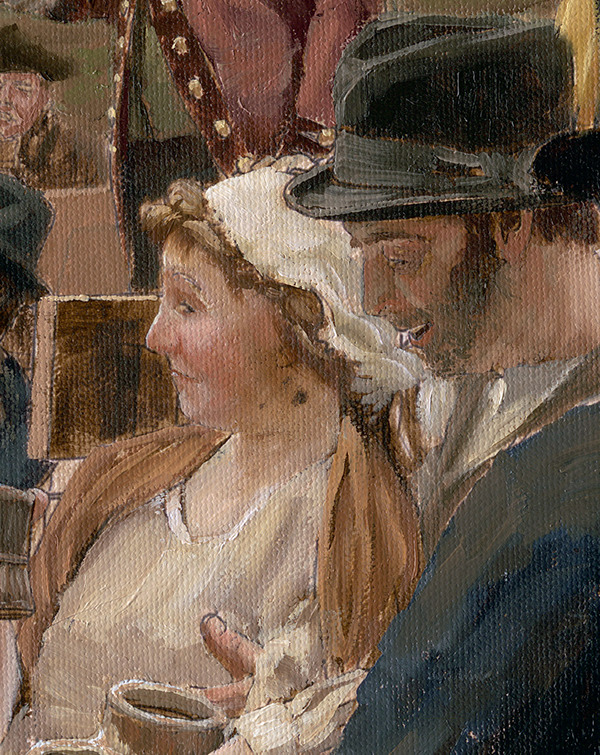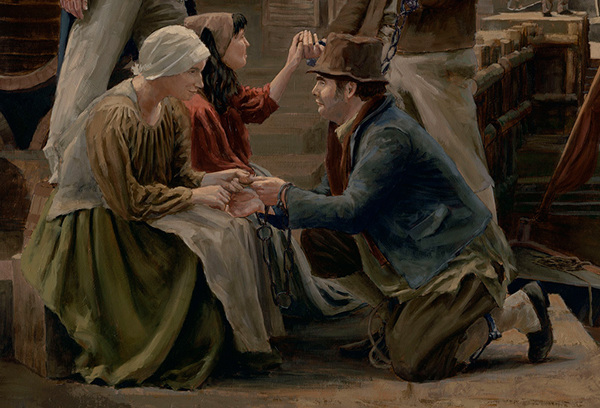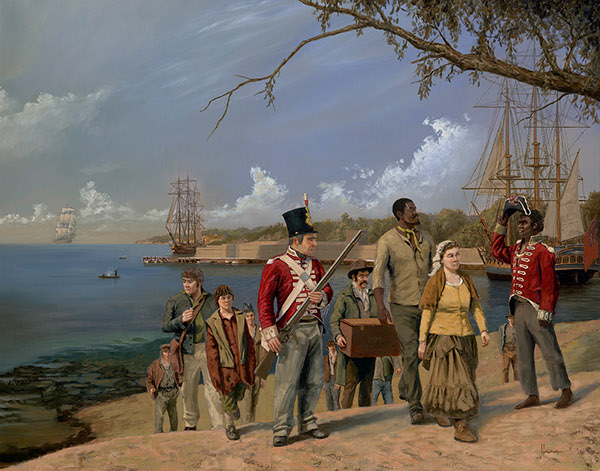 Thanks to:

Tim Gurling-Butcher, Inara Walden and Kieran Larkin at the Historic Houses Trust Sydney for the opportunity to paint such a fant

ast

ic work and subje

ct. Thanks also for taking the plunge and agreeing to this being a oil painting project!
http://www.hht.net.au/
To Les Cook and family at CIE-ELLE digital imaging for scanning, printing and good humor!
http://www.cie-elle.com.au/
Also to Ste

phen Gapps and h

is crew of re-enactors who supplied fantastic costumes, enormous patience and really got into the part!
http://www.historica.com.au/aboutus