LiebeErika
Warm and Friendly Hand-written Typeface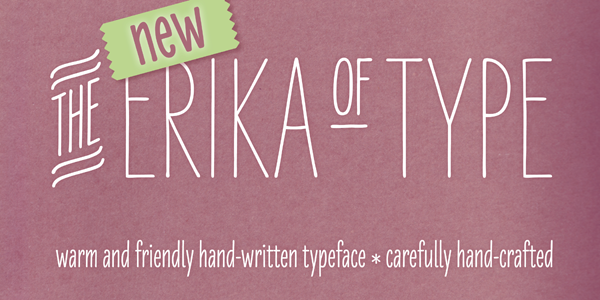 Ever since we started publishing on MyFonts in 2009, we've received requests for a typeface to compliment our popular dingbat fonts. So here it is: LiebeErika. Friendly and polite, rather thin, extra narrow, and of course carefully hand-crafted.
LiebeErikas casual and warm style is perfectly suited for invitations and personal correspondence. Its even in the name: German phrase, Liebe Erika translates to, Dear Erika, the beginning of a personal letter. But LiebeErika is not limited to English or to the German character set. It supports many other languages, too!
LiebeErika comes with a stunning variety of ligatures and alternative forms available through OpenType features. The font contains over 500 glyphs, so its actually two or three fonts in one.
LiebeErika is available as an OpenType font on