Below is an earlier version of what I was doing with the Majoscules. I really like warm colours and the whole royal theme, so my apologies for both colour palettes being the same here.
I decided to trash the line since it interfered with the readability at smaller point sizes, though I may bring the idea back if I decide to include alternates for the majoscules and whatnot.
below is an example of what the font looks like when used as body copy instead of display type. When I was designing it, I wanted the strokes to be simple, yet visible enough, to be readable at 12pts. I've always enjoyed the look of blackletter typefaces used for body copy, but their readability was lacking. I feel as though this simpler take on blackletter typography makes the font perfectly readable. I didn't include a smaller size since it was just too unreadable at <12pts to even show.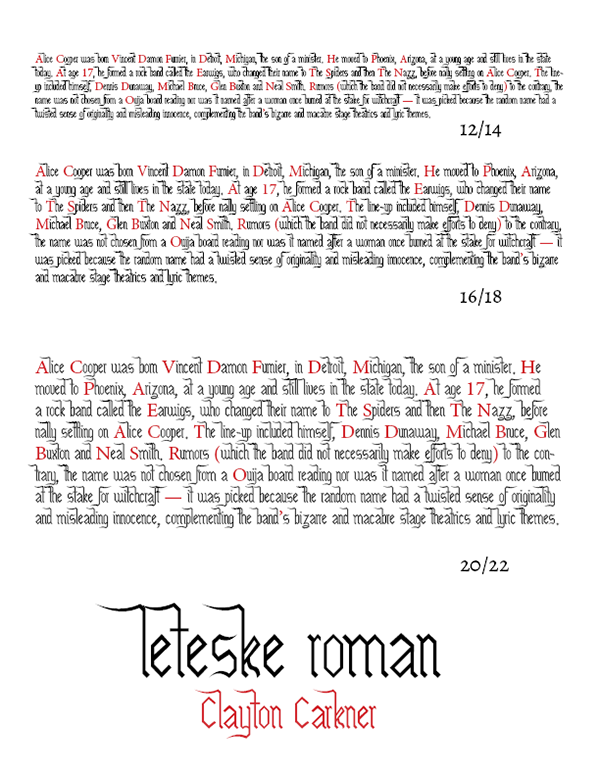 I am aware that the ascenders and descenders will touch each other on the same line, so I have decided to include a copy of the font that caters to the ascenders and descenders. I will simply not include the horizontal swash.
The glyphs in red inside the body copy are the ones that I have not made yet.
So when I'm done with the project in full, I plan to have Leteske fully functional as both a display font and typesetting font. Not sure if I'm crazy or a genius or both by saying that, but I'm gonna do it anyway.