Icelandic roads
traveling around small island.
Project done using Nikon system and  lots of gasoline, coffie, fun and Maltextrakt - Ölgerðin Egill Skallagrímsson - Beer Advocate :P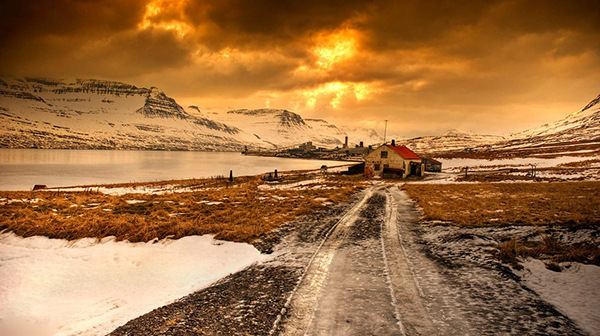 Abadoned farm,  Alcoa Fjardaál project

Þakgil - vulcanic ash and sand, near Katla and Mýrdalsjökull glacier

Nearly seven meters of snow, road from Egils to
Höfn.
Mountain shortcut
Fields full of moss -  way to Kirkjubæjarklaustur
The village
Kirkjubæjarklaustur
(pronounced [ˈcʰɪrcjʏˌpaɪjarˌkʰlœɪstʏr], Icelandic:
church farm cloister
) is a town of approximately 160 inhabitants situated in the south of Iceland on the hringvegur (road no. 1 or Ring Road) between Vík í Mýrdal and Höfn.
Road to  Kárahnjúkar Hydropower Project. East Iceland, ca 95km from Egilsstaðir.
Small farm on the way to Egils

Volcanic desert .
The
Mýrdalssandur
is a sand desert created by glacial outwash and flooding.
The
reindeer
(Rangifer tarandus), also known as the caribou in North America, is a deer from the Arctic and Subarctic
Road to Dyrhólaey
The small peninsula, or promontory,
Dyrhólaey
(120m) (formerly known as Cape Portland by English seamen) is located on the south coast of Iceland, not far from Vík í Mýrdal.
Reykjavík
Its latitude at 64°08' N makes it the world's northernmost capital of a sovereign state.