SafeHome - Extintor de Incêndio Doméstico
SafeHome - Full Home Fire Extinguisher
Universidade Federal do Rio Grande do Sul
Trabalho de Conclusão de Curso em Design de Produto
Professor orientador: Fábio Pinto da Silva
Graduation Project in P
roduct D
esign
Tutor: Fábio Pinto da Silva
SafeHome é um equipamento de segurança doméstico para o combate a princípios de incêndio. Projetado para ser utilizado por indivíduos a partir de 11 anos de idade, o produto é composto por um compacto extintor de incêndio portátil e um suporte para armazenar e dispor esse extintor fixado à parede ou em outras superfícies. Visando o melhor desempenho do equipamento, ambos foram projetados para serem utilizados juntos, mas nada impede que o extintor seja retirado do suporte e utilizado em uma situação distinta do âmbito doméstico. Para coloca-lo em uso, basta retirar o extintor de incêndio de seu suporte, o qual confere visibilidade e permite o acesso facilitado ao produto, remover o pino de segurança, que impede o acionamento acidental do equipamento, e apertar o botão de ignição, que dá início a reação e à saída do seu agente extintor de potássio que combate fogos do tipo A, B e C.
SafeHome is a domestic safety equipment for fighting fire ignition. It is designed for use by 11+ individuals. The product is composed by a compact fire extinguisher and a holder that allows it to be attached to a wall or other surfaces. Aiming for a better performance, both parts were designed to work together, but it is possible to utilize the extinguisher in different situations other than domestic. To use it, just take off the extinguisher from its holder, remove the safety pin - which restrains accidental actuation – and push the ignition button starting the chemical reaction and the release of the extinguisher agent made of potassium. This extinguisher controls fire from Classes A, B or C.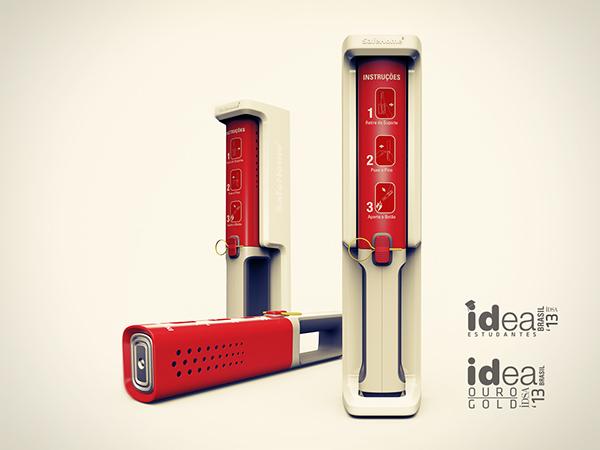 Ao contrário do que acontece nos Estados Unidos e em muitos países da Europa, o mercado brasileiro ainda não dispõe de equipamentos extintores de incêndio específicos para o uso residencial, ou seja, para o interior da residência, sendo que para garantir a mínima condição de segurança doméstica se faz necessário a adaptação de extintores portáteis desenvolvidos para ambientes coletivos, corporativos ou para o setor automobilístico. 
As opposed to what happens in United States or many European countries, Brazilian market still does not have extinguisher equipments for specific domestic use. To guarantee a minimum safety in domestic areas it is needed to adapt extinguishers that are designed for collective/corporative environments or even from automobilistic industry.
De acordo com os especialistas, esses equipamentos do mercado brasileiro não respeitam a diversidade entre os indivíduos e não promovem a inclusão dos menos habilidosos a intervir em uma situação de emergência. Logo, um dos grandes desafios deste projeto foi suprir as carências de um público alvo cada vez mais distinto, que apresenta um baixíssimo grau de instrução em relação à prevenção e proteção contra incêndios, por meio de um único produto. Esse público compreende desde adolescentes até idosos, os quais poderiam demandar maior assistência em uma situação de incêndio.
According to specialists, this kind of equipments does not respect the variety of individual needs and does not encourage less skilled people to utilize it in an emergency situation. Therefore, one of the biggest challenges for this project was to fulfill the needs of a highly differentiated target, who presents low instrucion level regarding prevention and protection against fire. This target comprises teenagers to elderly, who could need more assistance in an fire situation.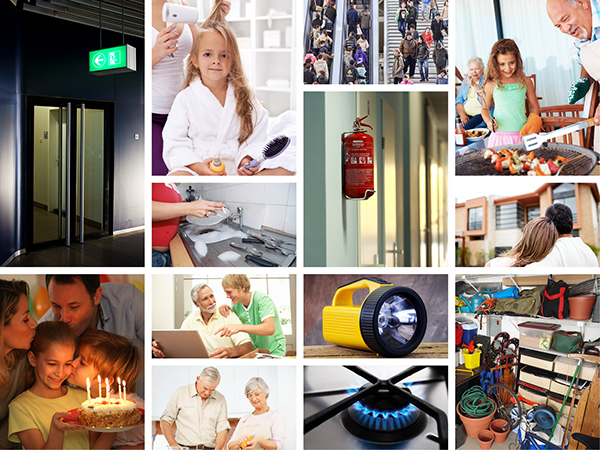 Sabe-se também que os extintores portáteis disponíveis no mercado tendem a ser negligenciados pelos usuários por inúmeros aspectos, principalmente, pelos fatores estéticos. Devido a não compatibilidade desses equipamentos com a decoração de uma residência, os extintores portáteis, quando adquiridos, geralmente, são armazenados em locais de difícil acesso, obstruídos por outros objetos, que dificultam a localização do produto quando requeridos. Assim, outro grande desafio deste projeto foi conceber um produto alinhado às decorações residenciais, compacto, portátil, intuitivo, seguro, fácil de operar e, ao mesmo tempo, coerente com um equipamento de segurança a ser utilizado em situações emergenciais.
It is also known that portable extinguishers available in the market today tend to be neglected by users for several reasons, specially due to its aesthetics. Because of its lack of home décor appealing, portable extinguishers are usually located in a drawer or other hardly accessible compartment, which makes it harder to be available when needed. Thus, another big challenge of this Project was to conceive a product that would not interfere in home interior design, compact, portable, intuitive, safe, easily operated  and at the same time, being coherent with a safety equipment to be used in emergency/risky situations.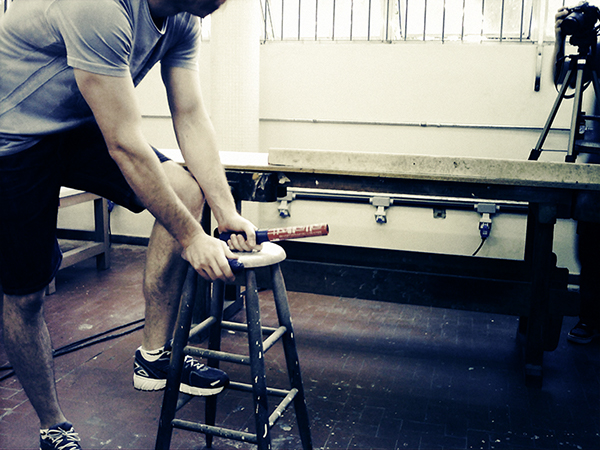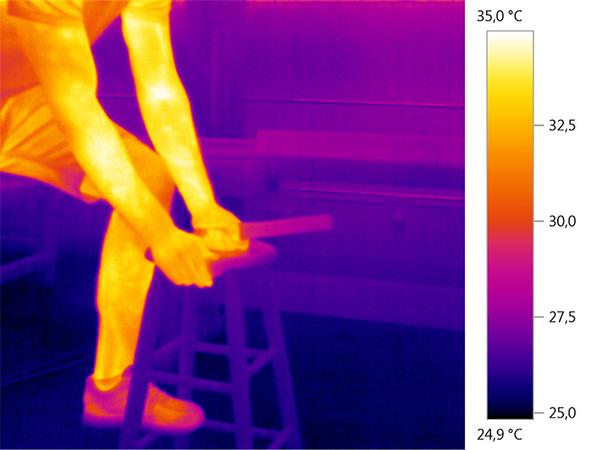 Por se tratar de um equipamento de segurança, a linguagem visual utilizada não poderia estar em desacordo com a sua finalidade. Dessa maneira, as formas e acabamentos utilizados foram pensados para contribuir para esse aspecto. O produto apresenta um desenho robusto e elementos característicos presentes nos extintores tradicionais de mercado, como a cor vermelha e o pino de segurança, que reforçam essa identidade de equipamento a ser utilizado em situações de emergência.
Being an extinguisher a safety equipment, visual language could not be in disagreement with its purpose. This way, the shapes and finishes utilized were thought to contribute for this appearance. The product presents a strong appeal and typical elements that are used in traditional extinguisher on the market, as for the red color and the safety pin, which reinforces the identity of this kind of equipment utilized in emergency circumstances.
Em relação à estrutura do produto, o suporte pode ser fixo em paredes ou outras superfícies por meio de dois parafusos ou por fita dupla face. A geometria desse componente possibilita a perfeita acomodação do extintor e dificulta a retirada do mesmo por crianças em idades inadequadas ao manuseio desse tipo de equipamento.
As for the structure of the product, the holder can be attached to a wall or other flat surfaces utilizing two screws or even double-sided adhesive tape. Its geometry enables a perfect match for the extinguisher and makes it more difficult for children to handle it, avoiding accidents.
O extintor de incêndio se destaca pelas suas dimensões reduzidas, compatíveis às relações antropométricas dos possíveis usuários, e pela clara definição da finalidade de cada componente externo. Através de uma generosa empunhadura confere conforto e segurança ao manuseio do equipamento tanto para o uso, quanto para o transporte. O botão de ignição possui relevos em sua superfície que conferem atributos sensoriais a esse importante componente. O pino de segurança, que impede o acionamento acidental do produto, possui desenho similar aos pinos utilizados em extintores portáteis convencionais, o que pode vir a elevar o seu affordance. A carenagem de proteção do extintor é responsável por proteger os usuários dos efeitos provenientes da reação exotérmica do agente extintor. Para facilitar ainda mais a dispersão do calor e reduzir a massa do produto, a peça possui furações, obtidas por estampagem, em três de seus quatro lados e recebe a sinalização das instruções de uso em sua face frontal por serigrafia.
Yet, the extinguisher stands out due to its reduced dimension, compatible to anthropometric relations from possible users and for the clear definition of the purpose of each external component. Through a well-designed handle, it guarantees comfort and safety on use or during transportation. The ignition button presents embossed surface, which gives important sensorial attributes to this area. The safety pin – restrains accidental actuation – has a similar design from the ones already in the market, making it easy to identify its use. The protective case is responsible to protect users from the effects of the exothermic reaction of the extinguisher agent. To increase heat dissipation and reduce product mass, the component has holes, applied by die-cutting process, in three of its four sides and receives instruction signs on its frontal face by silk-screening.
O produto apresenta maior aderência às decorações residenciais, quando comparado aos seus similares. Tal aspecto pode ser atribuído ao seu suporte e a alguns acabamentos do seu extintor, que se valem de cores neutras para minimizar os possíveis impactos visuais causados em um ambiente.
SafeHome presents a greater home décor appealing when compared with its similar. This aspect can be attributed to its holder and some of the finishes that utilizes neutral colors to minimize possible visual impacts caused in such environment.
O produto é composto por duas partes: o extintor de incêndio e o seu suporte.
Extintor: recipiente que contem o agente extintor e carenagem externa de proteção, sendo o primeiro em aço carbono e o segundo em alumínio; empunhadura e botão de ignição, injetados em polipropileno com carga de nanotubos de carbono, e os componentes responsáveis pelo sistema de ignição.
Suporte: armazena e dispõe o extintor fixado à parede ou em outras superfícies. Produzido por injeção de polipropileno em duas peças (por questões de extração de matriz), as quais são unidas por encaixes

snap fit

. 
The product consists in two parts: the fire extinguisher and the wall mount/holder.
Extinguisher: recipient that contains the extinguisher agent and external protective case, being the first made of carbon steel and the second made of aluminum; handle and ignition button are made of polypropylene enhanced with nanotubes of carbon, utilizing injection molding process; components responsible for the ignition system.
Wall mount/Holder: it holds and displays the extinguisher attached to the wall or other surfaces. Made of polypropylene (injection molding process). It is divided in two parts regarding mold ejection and utilizes "snap fit" joints.