In the this 10 week project, called the "ultimate Driving Experience", we were asked to design a vehicle that would give itsdriver just that. To do so, the vehicle had to force thedriver to create almost as a sixth sense. In the case of the Icekraft_this sense is an onboard computer that calculates wind conditions,direction and speed and by so sails the vessel so the driver can focuson enjoying the thrill - A green thrill for the white season.
Ice boating can be done both
as a sport or as a leisure activity. It requires knowledge about sailing and a daring mind - with speeds up to 80 mph this winter activity is not an option for cowards. These often handcrafted highspeed vehicles inspired the Audi Icekraft_ together with Auto Unions classic Formula racers from the 30s and 40s, Hang Gliding and
Malaysian ships.


Hang gliding is a thrilling adventure where the rider lays down facing forward/downwards to enjoy the spectacular view from above.
The head-first position adds to the experience of speed, something that is perfect for this project. The Icekraft_ was developed by combining these sports which created an experience that I would like to call 'Ultimate'.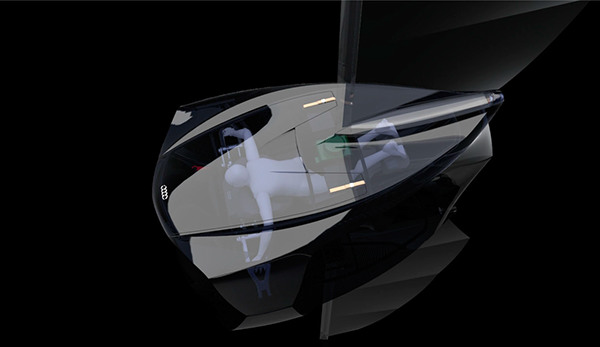 The driver lays down head forward and steers the vehicle by example pulling the right arm towards his body, the vehicle therefore leans and carves to the right. The electric engine (green on picture) moves the sail according to the wind in the same principle as the Maltese Falcon Mega Yacht ( http://www.iwishihadthis.com/2007/the-maltese-falcon-yacht/ )
When the Icekraft_ is not in use, its charged by plugin to the rear of the sail. When on the ice, A solar cell system from NLV Solar is covering the entire body which charges the batteries.