Una struttura dedicata ai bambini, in cui giocare e divertirsi, attraverso l'interazione con forme e materiali.
Avventurarsi all'interno è come entrare in un'altra dimensione, in un mondo che ha tradotto la realtà in origami e pop-up inaspettati.
Un luogo in cui scoprire e rimanere affascinati dalle mille sorprese, ma anche disegnare sotto, sopra e di lato, osservare l'interno e l'esterno.
Un percorso per stimolare la fantasia, anche in luoghi dove questo non è possibile. Non un sostituto, ma un'alternativa al giardino, che permetta anche in zone urbane o di periferia di avere uno spazio per i bambini.
A facility dedicated to children, where fun and games through interaction with forms and materials.
Venturing inside is like entering another dimension
,
in a world that has translated reality into origami and pop-up unexpectedly.
A place to discover and be fascinated by the many surprises, but also draw below, above and lateral, observe the interior and exterior.

A path to stimulate the imagination, even in places where this is not possible
.
Not a replacement but an alternative to garden
,
which also in cities or suburbs to have a space for children.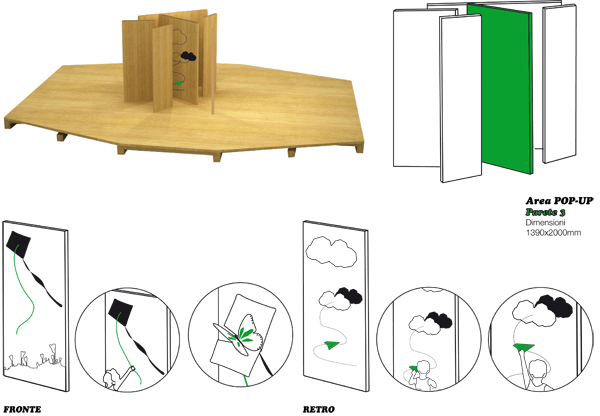 Project by : Ilaria Pacini & Adele Bacci
Three-dimensional modeling: Ilaria Pacini
Rendering: Ilaria Pacini
Illustrations: Adele Bacci
Graphic design: Adele Bacci