The FITEI – 
International Theatre Festival of Iberian Expression is a cultural institution whose ambition is to promote theater and the performing arts, as well as promoting artistic creation, an annual festival with a vision of prominence in the Iberian Peninsula.
The International Theatre Festival of Iberian Expression is proud to be the oldest in the country. In addition, seeks to host public artistic works of reference, classical and contemporary, as well as experimental and interdisciplinary projects, giving attention to new artistic expression in performing arts.In its 33th edition, the audience is already used to see the renewal of its image, reinforcing the festival personality without abdicating its changing nature and values.In 2010, the challenge corresponded to the creation of the new image of FITEI, which would include all the communication and institutional image of the Festival.
Briefing —
The FITEI renewed year after year his image by taking advantage of new concepts, new creative solutions and new production techniques. The small investment in communication requires a great impact and visibility in the impact of the pieces.


Concept — 
The image of the 33th FITEI assumes a three-dimensional form that unfolds in several applications and categories. The central idea was to explore a dialogue between the festival and the target. The public was invited to interact with the book by bending the paper andPacifica ™ created the whole concept of communication FITEI 33. The booklet of 33 FITEI with cuts paper explores and creates a scene of tragic and surprising.
Program / Booklet —
The program interprets the three-dimensional concept on the cover that allows the public to make the bends that reveal the contents through the outer skin. This brochure is the part that truly realizes the three-dimensionality of the image and concept in its essence. Inside, the form of tabs are displayed fragments / enlarged details of the poster. The clean and structured layout, the fluorescent images and the black editorial content compose the broch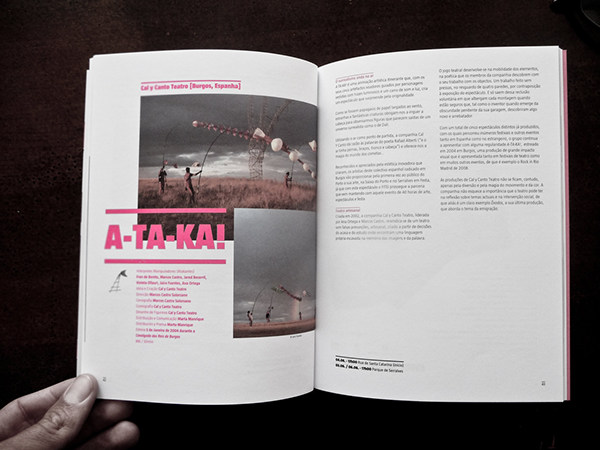 Thanks to
Motion design Filipe Carvalho
Editorial design João Sousa