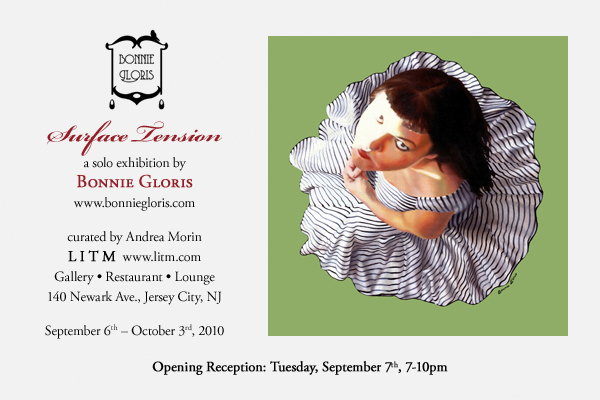 SurfaceTension
is aselection of artwork made by Bonnie Gloris over the past decade, ranging from her graphic Pop-inspiredprintmaking, surreallycomplex mixed mediacollages, rich, illustrative oil paintings, and combinations thereof.
Gloris' work ischaracterized by a poignant tension between a veneer of decorative motifs, andthe conceptual themes that lie beneath their pleasant surface. The darkundercurrent of Gloris' bold compositions is often belied by an ironicdepiction of delicate patterns and beautiful women. This includes thesubliminal thoughts explored in "Investigating the Subconscious," a series of portraits basedon word-association interviews with her subjects."Patterns Revealed" is a group of paintings that combine realistically rendered figures withpatterns derived fromarchitecturalelements, to examine the relationship between people and their urban surroundings. Gloris' work also meditates onthe delicate boundarybetween life anddeath in her series of mixed media pieces inspired by the film "Night of the Living Dead."
A narrative quality,careful attention to detail, and dark undertones unite these disparate series into a consistently engagingbody of work.
See the exhibition at LITM, a gallery, restaurant,and lounge at 140 Newark Ave. in downtown Jersey City. The show will be on viewfrom Sept. 6 – Oct. 3, 2010, with an opening reception on Sept. 7, 7-10pm. Formore information visit http://litm.com/art.html.