The follow illustrations show a dark and fantastic story: there is a metropolitan where there is no plant, animal, playground or joy, but only factories and skyscrapers, few people have heard of this city, and citizens there call it "Grey Walled City". Most people living there have already lost their imagination for fantasy things except the children. The kids could always see a fat woman dressing in black floating in the air. Her name is Mrs Fang who sells magical puppets that could do anything for their masters, but there is a rule, the owner must remember every puppet's name. Once forget this rule, something horrible will happen.One day, A little girl bought some puppets to build her dream lands.......

As there will be two different worlds in my story, one is the dark real world in Grey-Walled City, the other one is the fantastic worlds built by the puppets, I applied two different visual strategies. For the real world, I made 2D paintings and the major colors are grey, black and brown and orange, resulting in a depressing atmosphere. For the fantastic land, I created 3D paper- cutting and used vivid and bright color, leading to happy atmosphere but also slightly in chaos and unreal.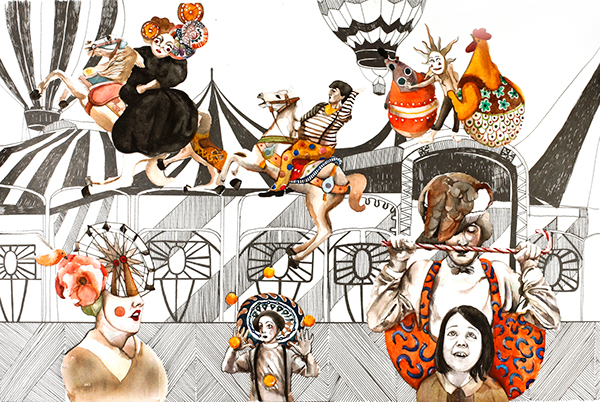 Thanks a lot for viewing!