- You cannot recall the first bed time story read to you by your parents when you were young, nor can you remember the first book you managed to read by yourself. You keep trying to remember the exact day you bought your favourite book and how many hours you have spent reading it over and over again. It is quite unfortunate that you cannot longer locate that small second-hand bookshop, where you spent an evening browsing through lost publishing firms, forgotten authors and old fashioned magazines. What you do remember, are the long bookshelves behind your grandfather's desk, the big encyclopaedias and his leather bound dictionaries. You do recall the large stack of books in his bedroom and the smell of the yellow pages. 
Υou have to admit that when entering a house, the first thing that will catch your eye is the content and visual output of the other person's bookshelf. So partly, your reference point for any kind of self-identification is through one's books. -
Every moment of our lives, we absorb, select, organize and edit information. In our every day interaction with the world we give shape to facts and stories, therefore we are becoming part of a social and cultural network. In this "age of information" the different forms that our virtual identities can be recorded and displayed vary from websites and video games to historical artifacts and traditional books. 
A bookshelf can be comprehended as a compression of many worlds, a personalized network folding many historical facts, ideas and phenomena in one dense space.
Therefore our bookshelves shape our virtual "spaces", where the voices of our favorite authors and their characters are placed next to each other, creating in that way unique "maps" of stories. For every bookshelf there is a different navigation between the collective past, the imaginary future and our relevant experiences in the present.
The 70cm x 100 poster is dedicated to the space, where our favourite stories are kept safe. We designed a bookshelf, which contains 100 books divided in 5 categories ( Fiction, Language & Philosophy, History & Geography, Arts & Films, Science Fiction ). 100 different spines were illustrated, trying to balance traditional and modern patterns, without the element of the typography in the titles. We illustrated the spines having in mind the little details that we love to find in books. Elegant ornaments, little animal logotypes, old fashioned binding techniques and powerful patterns, combined together to form the identity of our bookshelf. 
Every book is connected with a relevant phrase, located in the table of contents. In that way we kept the the characteristic nature of a title, but in a more subtle way. The invented "titles" are  phrases, quotes and references based from favorite books, magazines, film scripts and graphic novels. Every one of them is placed accordingly in the 5 categories, trying to build a deconstructed story throughout the timeline of the bookshelf. For example you find the title "09. Collective Self Narratives" in the Fiction category, "45. Cabinet of Curiosities" in the Arts & Films category and "85. Seashells and Tree rings " in the History & Geography category. 
The typography of the poster was used in order to accompany and continue the bookshelf's grid in a "periodic table" method and to connect the horizontal navigation between the spines and the titles.
The 70x100cm poster was screen printed with 2 colors on 10 main color combinations on a variety of papers and materials.
In general we produced almost 40 different combinations of colors and paper in total of 100 + signed and numbered prints. 
Some of the papers used: Conqueror/Connoisseur Soft White 160gr, Munken/Polar 170gr, Curious/Metalic Nude,Metalic Ice Silver 120gr, Blanc Beige 170gr.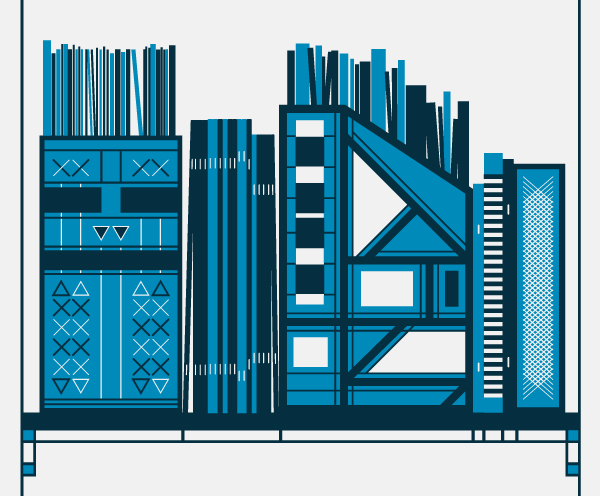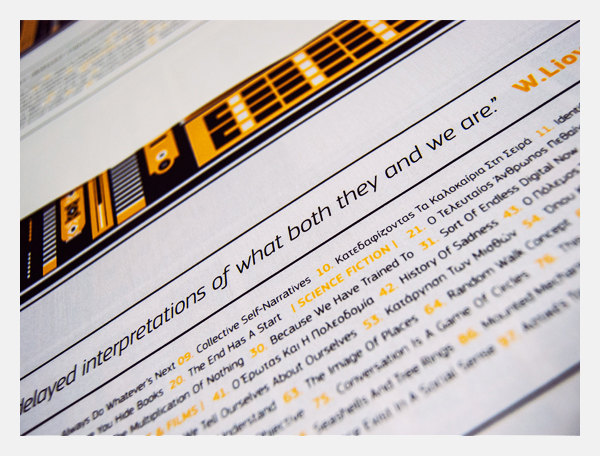 "For anyone with even a moderate interest in books, snooping at other people's bookshelves is one of life's great pleasures. Like music collections, personal libraries offer tantalising encapsulations of character; a quick glance at an acquaintance's bookshelves provides juicy fodder for all sorts of assumptions and judgements.."
70x100cm
—
Date Designed
November 2012
—
Special thanks to all the second-hand bookshops at Edinburgh and Athens. Support your local bookshop.