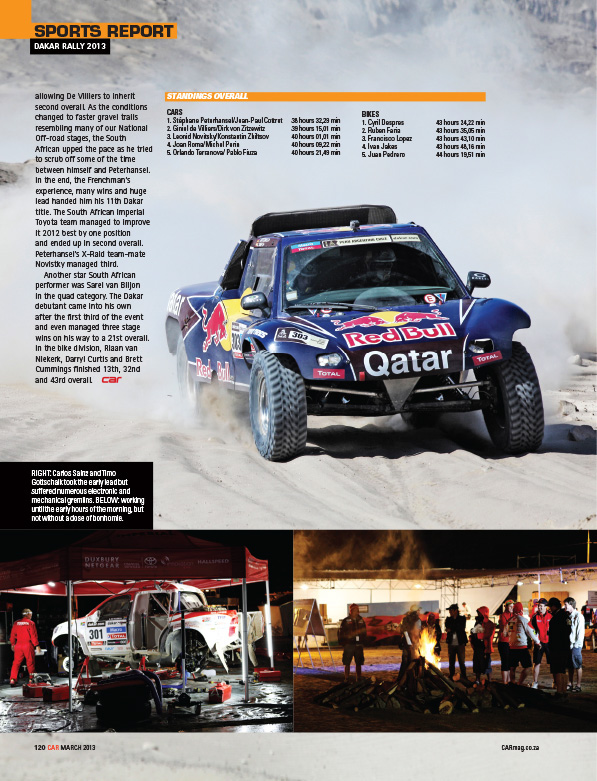 We were driving back from a spectator point on the 3rd stage of the Dakar Rally in a thick cloud of dust. 
The Doors' "Break on through (to the other side)" blared out the speakers as we bounced over the moon-like terrain,
we were not alone. Bikes, quads, cars and trucks suddenly growled past us from all sides. It was madness.
And that's what Dakar is. A grueling 14-stage off-road rally over 8 000 km through the toughest terrain Peru, Chile and 
Argentina have to offer. Competitors will have to conquer the vast dunes of Peru, cross the treacherous Andes mountain range, adapt or die to the challenging territory of Argentina and its sink or swim in even more dunes leading up to the
end of the Dakar Rally through Chile. You have to be bat-shit crazy to do this. But seeing SA's best chance of winning so calm 4 Stages in,
was perplexing to say the least. Giniel de Villiers remained cool despite the obvious tensions in the team. A day earlier 
team mate Duncan rolled his Toyota Hilux, cracking the roll-cage and effectively ending his Dakar dream. 
And it will be game over for quite a few more as the 34th Dakar Rally draws to a close, as the rally ruthlessly cuts down competitors until only the best remain.