My heart smile when I stop yours.
We're offering some help for rebuilding trust.

We created an un-branded experience and shared affirmations and the ability to reconnect with friends and other players you've back-stabbed while playing the latest in the Assassin's Creed game franchise 'Assassin's Creed: Brotherhood'.
Delivery Overview
Microsite
Downloadable postcards
1-800 number phone tree
Viral videos starring Rob Corddry
'Protests' at PAX and game launch nite
URL:
http://www.rebuildbrotherhood.com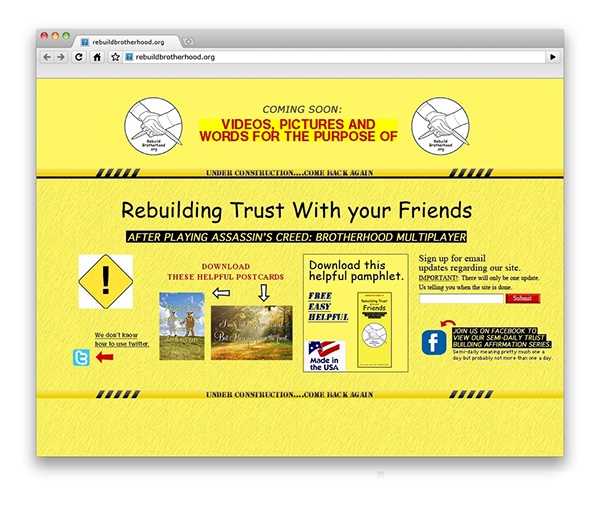 The Protests
Between September 3rd and 4th Cutwater teamed up with Go Gorilla Media and Assassins Creed: Brotherhood at the PAX event in Seattle, helping to spread the word on the new game. The event went off without a hitch, having no trouble with security, perhaps due to the branded cookies being given away with equally free pamphlets.
The main event was a team of five improv actors who stood in as members of a fictional rehabilitation organization called Rebuild Brotherhood. These actors brought gamers attention to the new multiplayer capacity that Assassins Creed: Brotherhood will have, claiming that playing the game with friends resulted in a potentially debilitating loss of trust. As such, the actors stood with picket signs, protesting the release of the game.
This proved to be a roaring success, with peoples continuously interacting with the protesters. The event was such a blast that on the first day it was featured on one of Seattles weekly magazines blogs, The Stranger. On the second day things got even better with the team being approached by Destructoid.com, asking for an interview with a few of the protesters.