Getty Images : Face On
a virtual as well as a physical exhibition in the "FotoMuseum Antwerpen"

This project was commissioned to Boondoggle by Getty Images. Getty Images felt that everyone can have their 15 minutes of fame and be in a museum. So they organized this exhibition where new photography talent could do their uploads both on- and off-line and be hung in the on- and off-line exhibitions. It lasted for a few months but space was quickly filled up due to immense amount of interest.

This website won a design award in 2008 at the European Design Awards in Stockholm.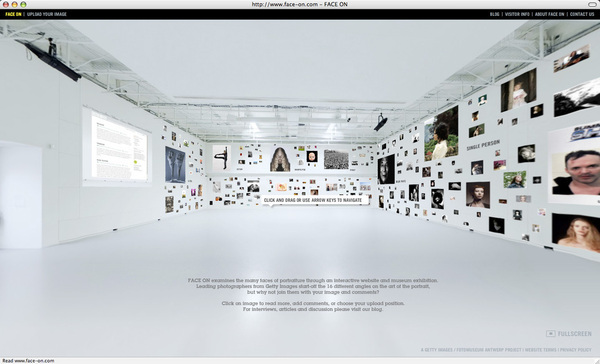 The exhibition space in the "Fotomuseum Antwerp" was photographed in 3D and you could post photographs that would later be printed and hung physically in the Museum it self (after approval). And you could also go to the museum with a photograph which could be scanned and hung on-line as well as off-line.

By clicking on the image you could get more info about the photograph and photographer.