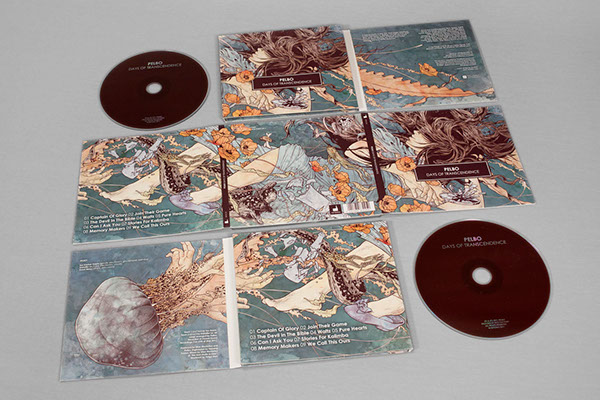 Inspired by the explosive rythms and dreamy tones of Pelbo's second album release, we created a dreamlike scenery where objects seem to float in space, or they might be whirling down into the ocean's depths.
To bring some interaction between the inside and outside of the cover, the illustration were created as a loop making the outer image integrate with the image inside as you unfold the cover.
The artwork for Days of Trancendence was awarded Gold in STERK 2011′s illustration category, and featured in a 5-page tutorial in Advanced Photoshop Magazine #106.
Format:
Single CD in a 6-panel digipak.
Black 2x12″ heavyweight vinyl housed a double gatefold sleeve. Includes a digital download coupon.
Client:
Pelbo / Riot Factory
Technique:
Ink on paper, watercolor, digital