Illustration for the Cities Development Initiative for Asia flagship event. The theme is "Climate Change Financing: Accelerating Urban Resiliency." I tried to depict the different ways that cities are trying to implement alternative energy, green living, pedestrianization, and so on, in order to counteract the effects of climate change and extreme weather.
Illustration adapted for the programme booklet and other collaterals.
The illustration was enlarged and printed on sticker paper.
The printed illustrations were then mounted on cintraboard. Lights were placed behind the boards, giving the stage a three-dimensional effect.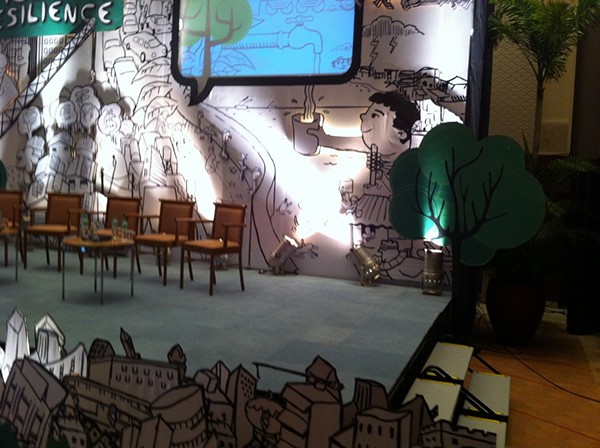 During the two-day conference, I did creative visualizations of each of the speakers' talks as well as responses during the panel discussion.
The creative visualizations were done in two ways: First, using a wacom tablet which was then projected onto the screen, and during the second day, an actual live sketch using a whiteboard and markers.
In collaboration with video artist Chili Gallei (chiligallei.com), my illustrations and portraits of the speakers were animated.