[ENG] This is a serie of poster designed for different topics. This work has been made for convocatories and invitations for exhibitions between 2012 and 2013.
[ESP] Esta es una serie de carteles diseñados para una variedad de temáticas. Estos trabajos fueron parte de convocatorias e invitaciones para exhibiciones que se realizaron entre 2012 y 2013.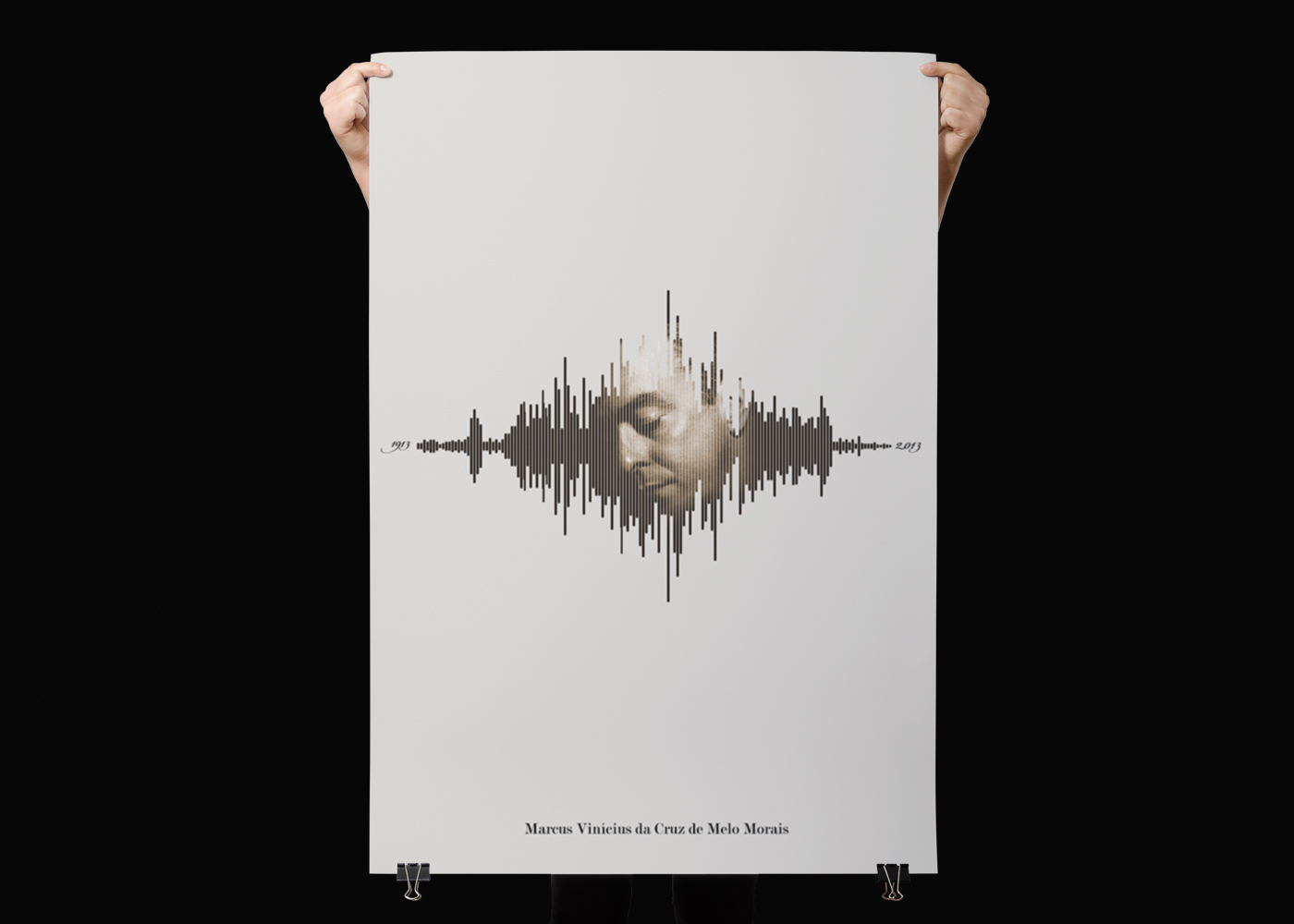 Vinicius de Morais
[ENG] Poster designed for the exhibition that was held in La Paz - Bolivia in 2013 in honor to the centennial of famouse musician Vinicius de Morais. This poster was part of the events Festijazz and the Bolivian Poster Biennial.
The poster reflects a timeline of 100 years reflected in a frequency spectrum graphics. The portrait of the artist was used as the background of this graphics.
[ESP] Cartel diseñado para exhibiciones realizadas en La Paz - Bolivia en 2013 en honor al centenario del famoso músico brasileño Vinicius de Morais. Este cartel fue parte de los eventos culturales Festijazz y la Bienal de Cartel de Bolivia.
El cartel refleja una línea de tiempo de 100 años representada en un gráfico de espectro de frecuencia. El retrato del artista fue utilizado como fondo de este gráfico.
Derechos de autor
Poster designed for Cromia 2013 in Ecuador. This work was part of an invitation to make a personal perspective for copyrights. The poster reflects to copyright as a protection element of the intellectual creations of the people.
Diseño de cartel para Cromía 2013 en Ecuador. El trabajo fue parte de una invitación a realizar una perspectiva personal sobre derechos de autor. El cartel busca reflejar a los derechos de autor como un elemento de protección de las creaciones intelectuales de las personas.
Something Special
Poster created for Something Special call Enbotellarte in 2012. This call had the requirement of the development of a poster that shows a personal element of the designer plus the use of the iconic bottle of Something Special. In this work, I decided to use a hand as a symbol of  my main source of work. 
Cartel creado para la convocatoria Enbotellarte de Something Special en 2012. La convocatoria solicitaba desarrollar un cartel que muestre un aspecto pesonal del diseñador y la utilización de la icónica botella de Something Special. En este trabajo, decidí utilizar la mano como un símbolo de mi elemento más importante para trabajar.
San Violentin 
This call wanted to create a think over the violence in the world in many social issues. This poster wants to reflect the fake love, that shows through appearance, hiding a violent and raw reality that some people has to face everyday.
Esta convocatoria busca crear una reflexión sobre la violencia en diversos aspectos sociales. El cartel busca reflejar el amor falso mostrado a través de las apariencias, ocultando una realidad violenta y cruda que muchas personas deben enfrentar día a día.