captain's lodge
Holiday Homes
Trata-se de um complexo de turismo habitacional de herdade familiar, consti­tuído por quatro casas com ambiente acolhedor e de estilo típico da ilha de São Miguel(Casa Vasco da Gama, Casa Navegador, Casa Marinheiro e Casa Atlântico),localizado na freguesia dos Ginetes, no sudoeste da ilha, do arquipélago dosAçores.
Com este projecto pretendia-se alcançar maior visibilidade pela concretização de umanova identi­dade visual, turisticamente atractiva e características de habitações rurais, embora de uma forma mais inovadora perante os estilos frequentemente recor­ridos para fazer alusão às férias nos Açores.
A ma.china.shape ficou com a tarefa de definir uma imagem sólida para o projecto que abrangesse, não só a logomarca do complexo habitacional (e para cada uma das casas, funcionando como um todo), como também as respectivas aplicações nos seguintes materiais: cartões-de-visita, papel de carta e envelopes. Foi ainda pedido o desenvolvi­mento de uma agenda personalizada, com o pro­pósito de marcar reservas das habitações e uma folha que transcreve todas as regras das casas.
A forma global do símbolo gráfico foi inspirada no "C" de Captains Lodge e, que por sorte é um carácter que podia facilmente ser convertido para fazer alusão a uma forma subtil de onda do mar e, sucessivamente relacionada com o mar, o oceano Atlântico.
Esta forma foi devidamente preenchida com formas que relembrama diversos habitantes do mar (polvos, conchas, estrelas do mar, peixes e outras espécies do mesmo). Assim, o símbolo gráfico funcionava como uma espécie de introdução ou mergulho nos elementos caracterizadores deste arquipélago.
Apesar dos detalhes característicos, as figuras permaneceram simples, uma vez que destinavam-se para serem encaixadas no símbolo gráfico, numa espécie de puzzle que preenche toda a área da forma de onda. A distancia entre cada fi­gura foi determinada de modo que ficasse mais ou menos igual entre cada uma e, de forma que uma grande redução da sua dimensão assemelhasse-se a uma mancha de cor pura.
//
Captains Lodge is a family homestead tourist complex, constituted by four houses with a cozy and typical style of the island of São Miguel (Casa da Gama, Casa Navegador, Casa Marinheiro and Casa Atlântico), located in the parish of Ginetes, south western island of the archipelago. 
With this project it was intended to achieve greater visibility by concretion a new visual identity, attractive for tourist destination and characteristics of rural housing, although in a more innovative styles often before the defendants to make allusion of vacation in the Azores.
The ma.china.shape was left with the task of defining a solid image for the project that would encompass not only the logo of the complex (and to each house, functioning as a whole), aswell as their applications in the following materials: visit card, stationery and envelopes. It was also asked to develop a custom schedule, in order to score reservations of dwellings and a sheet that transcribes all the house rules.
The overall shape of the graphic symbol was inspired by the letter "C" of "Captain's Lodge" and, by luck it is a character that could easily be converted to allude to a subtle form of wave and, in turn connected with the sea, the Atlantic Ocean.
This form was duly filled with shapes reminiscent of the diverse in habitants of the sea (octopus, shells, starfish, fish and other species of the same). Thus, the graphic symbol functioned as a sort of introduction or diving in the characteristic elements of this archipelago.
Despite the characteristic details, the figures remained simple as it were intended to be embedded in the graphic symbol, a kind of puzzle that fills the entire area of the wave form. The distance between each figure was determined in order to remain "more or less" equally to each, and so a large reduction of its size resembles a patch of pure color.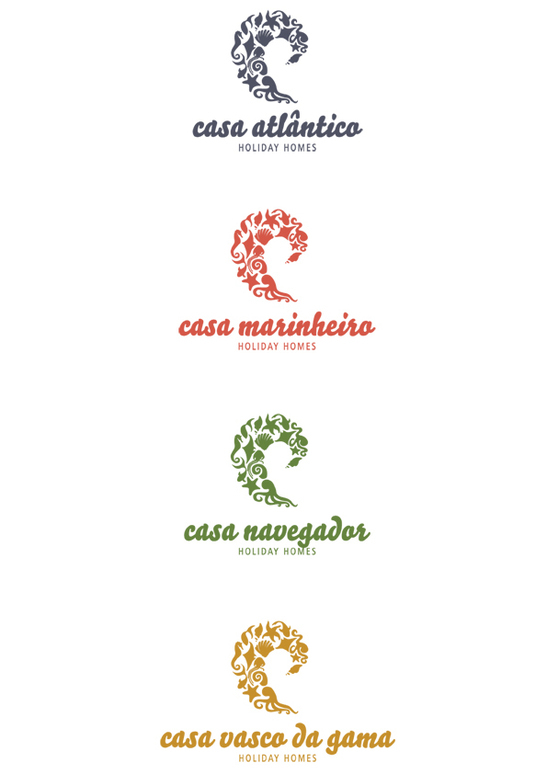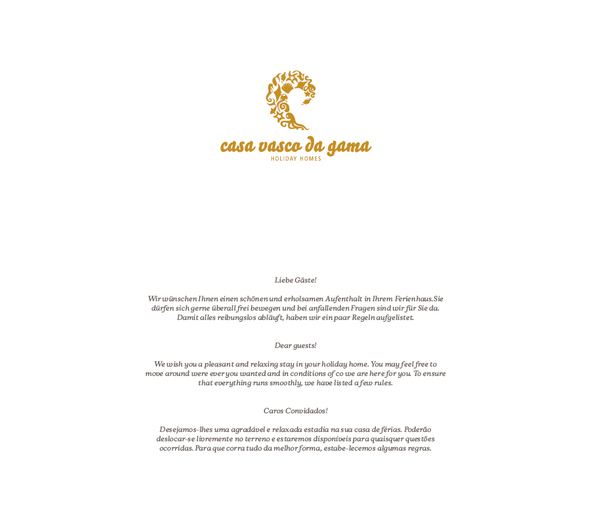 A agenda de reservas, personalizada para o cliente, destina-se exclusiva­mente à marcação de estadias, cujas informações exibidas foram solicitadas pela própria cliente, na língua materna do alemão.
Para um aspecto global mais divertido, como a própria ideologia de férias do Captain's Lodge pretende transmitir, elaboraram-se ilustrações para cada separador, inspiradas nas estações e meses do ano e, cuja composição resulta num pa­drão preenchido por toda a área do separador.
Para acompanhar estas ilustrações, existe uma página encadernada e recortada antes dos sepa­radores, que exibe um provérbio popular alemão, servindo como uma espécie de legenda descritiva do acontecimento do mês a que se associa. Uma vez que existe um amplo leque de provérbios, foi indis­pensável efectuar uma pesquisa cuidada para selec­cionar os provérbios mais adequados e conhecidos.

//

The Agenda reservations, customized to the client,intended exclusively for marking stays, which displayed information being requested by the client itself, in the mother tongue of German.
For a comprehensive and fun look, as the ideology of the Captain's Holiday Lodge wants to convey, there were produced illustrations for each tab, inspired by the seasons and months of the year and whose compositionresults in a completed standard through out the area of the tab.
To accompany these illustrations, there is a page bound and trimmed before the tab, which displays a popular German proverb, serving as a sort of captiondescribing the event of the month to which it links. Since there is a wide range of sayings, it was indispensable to carry out a thorough search when selecting the most appropriate and well-known proverbs.