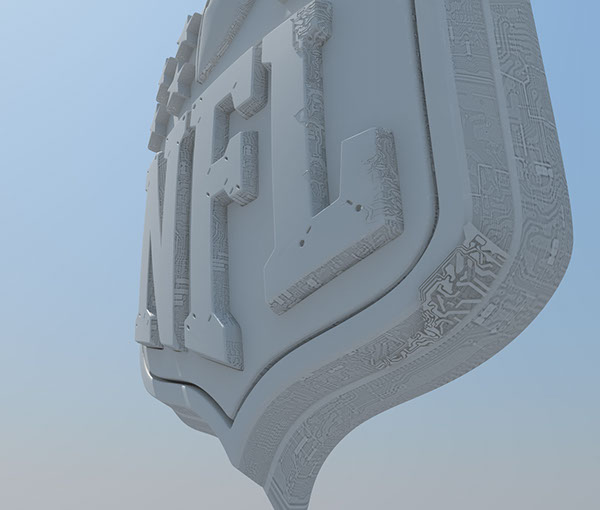 As the dialgue continued we started to hone in the design langue of the logo.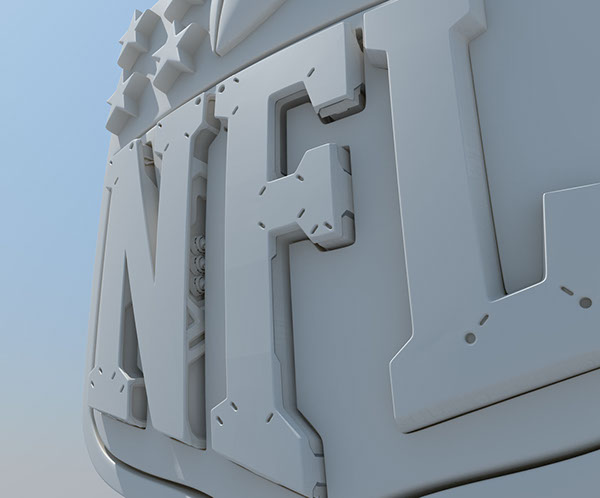 The below frames show early lighting and exploration with logo. We knew that we would always need to have the traditional Red, White and Blue colors of the NFL logo, though rendering it as a reflective black material with highlights was just too tempting to try out. 
During the early stages of development, in the two videos below I was exploring what type of effects we could use to drive the letters activing. While we never ended up using any effects to this degree in the finished product, it is always a satisfying part of the process. 
The inset highlight lines in the stars became a bit of a techincal hurdle, while I initially thought sweeps would have been suffice the build and animation of the logo didnt allow. This set up had two purposes, aligning a seriers of MoSplines animating along the inset being feed into Proximols creating the color in the material; also driving the lead edge of the highlights with attached nulls to be imported in After Effects for lighting effects. 
Once we had a better ideal of what we were going to be working with from SHTL, we made some changes to reflect and highlight the charcteristics of this incredible logo. 
Originally I had all these grand ideas of logo being activated by the highlights running in all the insets of the model. Seeing all the highlights in context we felt it was too distracting and needed to be toned back. A few more brain storming sessions and we landed with the final effect of the diagonal lines flickering on, which were more in line with the Thursday Night Football branding which had also been produced at Capacity.