Forensic Reconstruction - Valley Center Jane Doe
In 2002, I did a 2D facial reconstruction on a very fragmentary skull found in 1999 in a remote avocado grove in the San Diego, California area known as Valley Center. Several years passed. Then, someone at the Doe Network made a potential connection between the unidentified skeletal body and a missing young woman from Redlands, California. Ultimately, this led to her positive confirmation of identity. Due to the diligent efforts of officers at both the San Diego Sheriff's Department and the Redlands Police Department, this case has finally come together after 15 years.
This image shows the areas that had to be speculatively re-built in clay before I could attempt to reconstruct the face.  There was no bony nasal aperture, no left zygomatic arch (cheekbone), no maxilla and very little mandible.  I found it helpful to re-build the upper and lower teeth in clay as an aid in determining the facial height.  The insertion of a pencil through the mandibular notches is a very useful technique from

Grant's Anatomy

 that will help determine accurate mandibular placement.
I also did a full figure drawing to show the unidentified victim's short-legged build and various items of clothing and jewelry found at the scene.  The hand was placed on her hip to show the manicured red fingernails.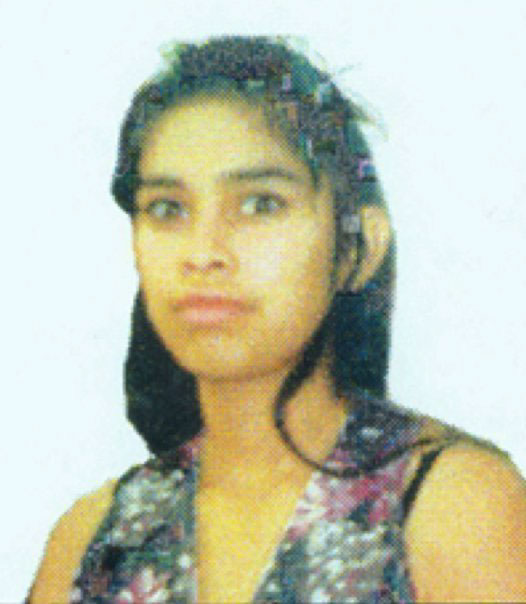 This is Sarah Hernandez Reyes's photo, obtained after her confirmed identification. The comparison with my reconstruction drawing was not perfect, but it was favorable enough to help trigger her identification. It was especially rewarding for me since the case was so very difficult. It was by far the most fragmentary skull-to-face reconstruction I have ever attempted.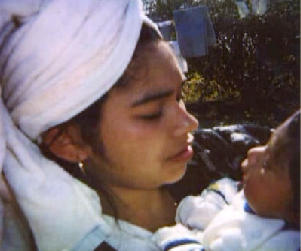 This sad photo also shows the young victim with the infant son that she left behind.