During the Winter 2012 packaging design competition sponsored by Wegmans and American Packaging Corporation. RIT Students from three different fields including industrial design, graphic design, and packaging science came together to compete in this competition.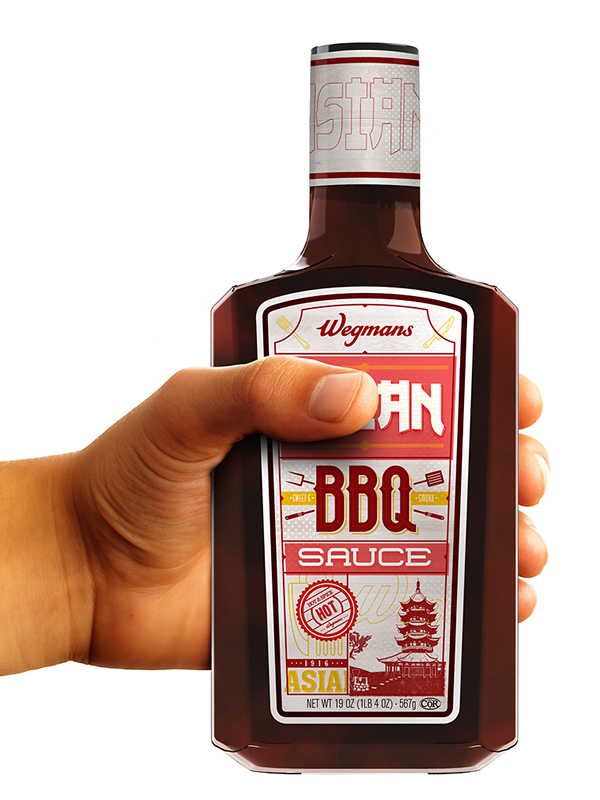 Wegmans can further their BBQ sauce product line with the introduction of the Summer Seasonal Pack and the BBQ Dippers.
After filtering out many concepts, a traditional bottle form that resembled a flask was chosen. The flask presents an elegant form while still maintaining ergonomic qualities. 
A high-density foam mold was created for thermo forming. Styrene was used to create the structure of the bottles, giving it the look and feel of a product off the shelf. 
An orifice reducer was added into the design, providing a more controlled dispense of the sauce and decrease the chances of a mess.
The new design allowed each pallet to hold 312 more bottles and reduce the weight by 179 lbs, compared to tradtional glass bottles.
The new design had a 43% increase for bottles per truck and reduced the total weight of the truck by 750 pounds.
The Wegmans BBQ sauce was awarded the first prize at Rochester Institute of Technology.