The Discovery Channel International commissioned Karen T. Taylor to produce the first facial reconstruction of an important Mayan ancestor.  Discovered in 1994, a pre-Columbian tomb in the ancient city of Palenque contained the remains of a woman who came to be known as the Red Queen.  Embellished with jewels, gold, turquoise and jade, the tomb dates from about 600 A.D.  This project can be seen the production
El Misterio de la Reina Roja
and at the
How Stuff Works
website.
The skeletal body in situ was covered in cinnabar, hence the name Red Queen.  She had a diadem and other adornments of turquoise.
Frontal view of the sculpted facial reconstruction, including the diadem.  A resin replica of the skull was used, so there would be no risk of damage to the fragile original.
Lateral view of the reconstruction, which shows the cranial deformation typical of the ancient Mayans.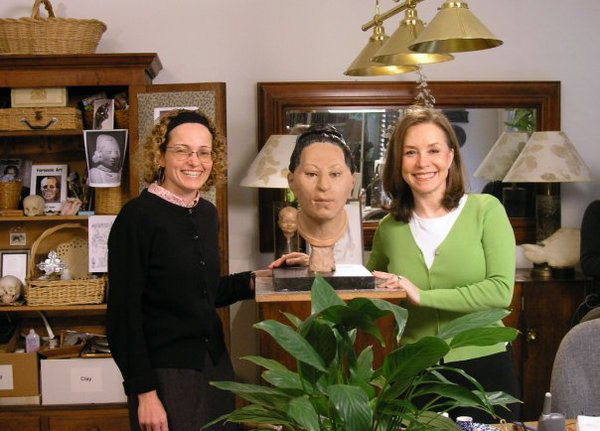 I enjoyed working with Dr. Vera Tiesler (left), a well-known Mayan expert from the Yucatan University in Mexico.  She visited my home studio for the consultation and filming for the Discovery Channel.
Sculpting the facial details while filming.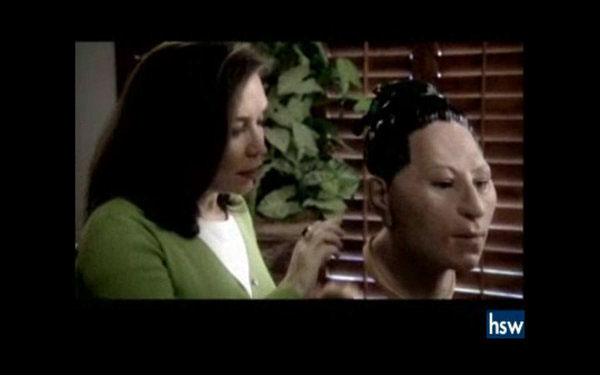 From the Discovery Channel International production
El Misterio de la Reina Roja
and on
How Stuff Works.