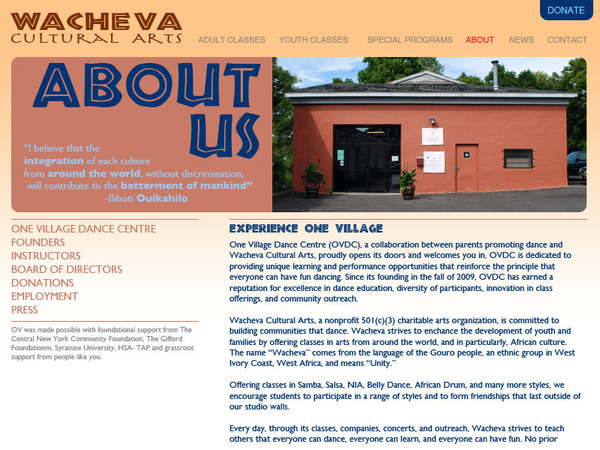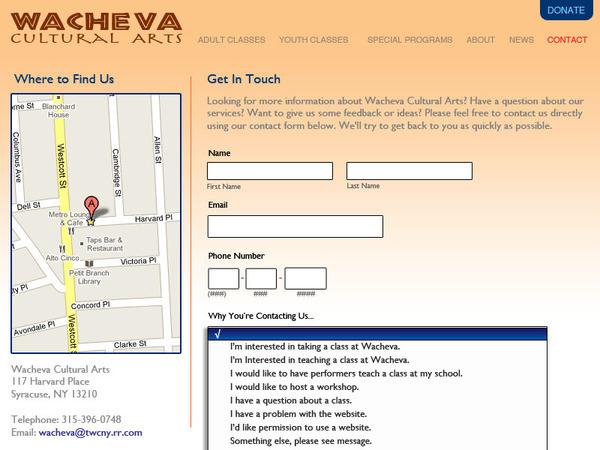 not-for-profit site audience:
The audience for this website is men and women, ages16 to 60. The centre serves primarily women, though people of variousbackgrounds come to experience the classes offered. The younger patrons aremore likely to use the website, for upcoming events and class schedules. Individuals unfamiliar with the centrecan use the site to learn information about the classes. 
web site visual identity:
The website uses a very clean and crisp layout toconvey information. The website has a lot of personality, as expressed throughits bright, playful colors and African font. I chose the images shown becausethey are very graphic and convey a sense of the class styles. The fonts arevery decorative in the headers, but are clean and easily readable in the bodycopy.  
design strategy:
The initial impression the home page makes is that ofa professional organization. The layout is clean, and information is easy tofind. Navigation is very simple and straight forward. The visual indicators oflinks are that when clicked on, the link turns red. Similarly, the SlideShowPro on the homepage uses red to identify the image being displayed. The use ofAfrican type connects with the bright colors and pictures, showing a festivemood of the centre.  
style sheet
NAVIGATIONLINKS: Helvetica, 11/11
AFRICANHEADER: African, 30/30
CULTURAL ARTS HEADER: Herculaneu, 20/20
SUBHEADS:Candara, 18/18
BODYCOPY: Helvetica, 12/12 
document grid:
All elements found on the website areplaced within the grid set by the navigation bar. The elements do break out ofthis grid at times, but work together to promote an image of orderliness andprofessionalism. I place the navigation at the top because it allowsindividuals to easily find information that they come to the site for.
sources(as long asnecessary) I used images from
www.wacheva.com
.