A Studio Called Chirp, logo
Custom-script ambigram
The logo for A Studio Called Chirp was published in the gallery of the 2013 PeachPit New Riders series book,
Ambigrams Revealed
.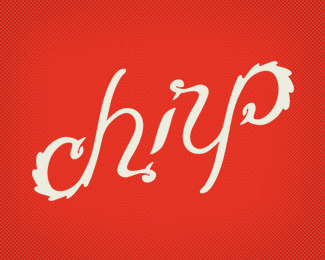 After changing my mind over the course of a few years, I land on
A Studio Called Chirp
for the name of my design shop. It's exactly what I want to communicate: friendly and fun, bright-sounding, and the name sounds like an opportunity to help others to find their voice.
I wanted my logo to express all of that, and be clever and creative. While I was concepting, I noticed the letters lent themselves to an ambigram (the same upside-down or backwards). I thought that if I could pull off a legible and well-produced ambigram, it would be clever and creative, friendly and fun. I also knew it would take quite a bit of work to make it both an ambigram and readable. This is a piece I can proudly say that I truly c

rafted

.